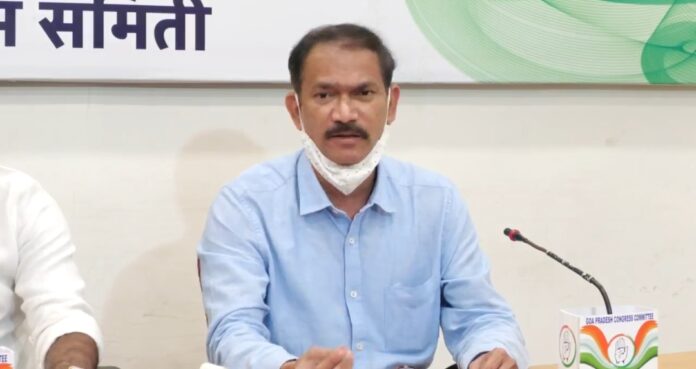 Panaji: The President of Goa Pradesh Congress Committee, Girish Chodankar on Thursday attacked Prime Minister Narendra Modi for not addressing issue of Chinese intrusion on Indian territory and said, that if it was the 'Iron Lady' Indira Gandhi at the helm at present, China wouldn't have dared and she wouldn't have allowed an inch of intrusion on Indian territory.
Congress leaders while commemorating Vijay Diwas, paid tributes to those who sacrificed their lives to save India.
Leader of Opposition Digambar Kamat, Senior Congress leader Dinesh Gundu Rao, Chief Guest Air Commodore Peter Pinto (retd), Vice President of GPCC Mr MK Shaikh, Ex- Servicemen Colonel Victor Rebello, Colonel Pradeep Sehgal, Capt Ajay Arora, Col John Dsilva and Cdr Pankaj Sharma alongwith widows of defence personnel, Mrs Rama Reddy, Mrs Clara Cardozo, Mrs Blanch Dsilva, Mrs Gloria Fernandes, Mrs L Devi , General Secretary Jana Bhandari, District Presidents Joe Dias & Vijay Bhike along with others were present on the occasion.
"Under the leadership of former Prime Minister Indira Gandhi, India won 1971 war, that liberated Bangladesh from Pakistan. She and our soldiers cintributwd towards the safety, security and betterment of the nation, but now we have a PM who is compromising not only the nation's safety and security, but its territory as well He boasts of having a 56 inch chest, but has no courage in safeguarding national interests." Chodankar said.
He said that Chinese have entered almost 100 kilometers in our India, but PM Modi is not addressing the issue.
Dinesh Gundu Rao commended the steps taken by then Prime Minister Indira Gandhi and soldiers. "It was not a war to boast or make India a more powerful nation, or for selfish motives, but to safeguard the people of Bangladesh and protect their lives.
"It was a war to save democracy. But today BJP is using word nationalism to derive political gains and spread hatred amongst its people. BJP is dividing the country." He said.
Digambar Kamat speaking on the occasion said, that he felt proud of the Goans' contribution and service during that war. "Senior defence leaders like Gen Jacob hailing from Goa were instrumental in effecting the surrender.
The chief guest, Air Commodore gave a brief run down on the daywise events that unfolded during the 1971 war and how timely and decisive actions brought Pakistan on its knees.
Mrs Rama Reddy spoke recalling her husband's contribution during the war.
Others also spoke on the occasion. The event was brought together by the Chairman Ex-Servicemen Wing of the GPCC, Col Noel Goodwin(retd)