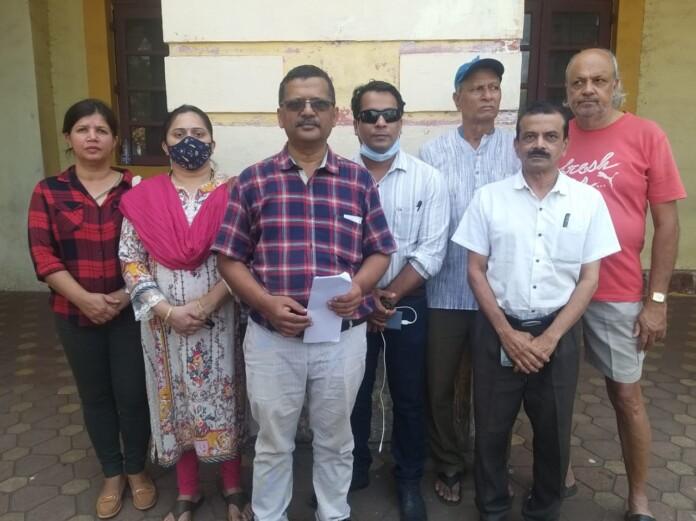 Margao: Shadow Council for Margao strongly condemned the Margao Municipal Council and Margao MLA for preferring to stealthily shift the wet waste to Saligao plant, instead of treating the same at Sonsodo.
Briefing the media along with Adv. Snehal Onskar, Arch. Carlos Gracias, Loyola Rodrigues, Maria do Carmo, Anthony Gonsalves, Damodar Onskar etc., SCM Convener Mr. Savio Coutinho alleged that under the directions of Margao MLA Digamber Kamat, the MMC trucks were painted to conceal their identity, and wet waste from Sonsodo is being taken to the Saligao plant, thereby incurring additional expenses on transportation and treatment through the all time favorite "Hindustan Waste Treatment Company".
Likening the Sonsodo dump yard to the Hen that lays Golden eggs, SCM charged that the "hen's" coop changes from one hand to the other, and while Golden eggs are regularly harvested,  no permanent solution seems to be coming even after spending hundreds of crores of public funds, Mr. Coutinho charged.
Mr. Coutinho came down heavily on the leaders controlling the Council for their failure to come up with any positive measures for the treatment of daily wet waste. Since Fomento left the Sonsodo plant in 2020, MMC has spent huge amounts on bio Remediation of the accumulated wet waste in the plant. Initially 85 lakhs was spent in June 2021, and subsequently 3.74 crores was spent in May 2022 on the Remediation of 14800 cubic meters of waste from inside the shed, Mr. Coutinho revealed. "The present mood, of the powers that be, suggests the readiness of these unscrupulous leaders of spending another 5 to 7 crores, by handing over the accumulated wet wast to the Contractor", Mr. Coutinho said.
What is the point of spending over 1 crore every month on the segregated waste collection, when the waste is not treated at all?, Mr. Coutinho questions.
Not a single kilogram of compost is derived from the so called wet waste collected, and we don't understand how this Council claims that waste is being treated, SCM wondered. We have not only given written suggestions for the handling of the accumulated waste, but have also offered to assist the Council, but their vested interests eventually leads them to rope in their "favorite" to Remediate the waste at huge costs, Mr. Coutinho lamented.
SCM Convener Mr. Savio Coutinho said We had earlier filed a letter Petition before the Hon'ble High court, in order to appraise the Hon'ble High court about the severe shortcomings at Sonsodo, and that they would consult their lawyers and explore the possibility filing a Petition once again.
Mr. Coutinho further revealed that they would also seek appointment with the Urban Development Minister Mr. Vishwajit Rane and discuss the Sonsodo issue with Mr. Rane.