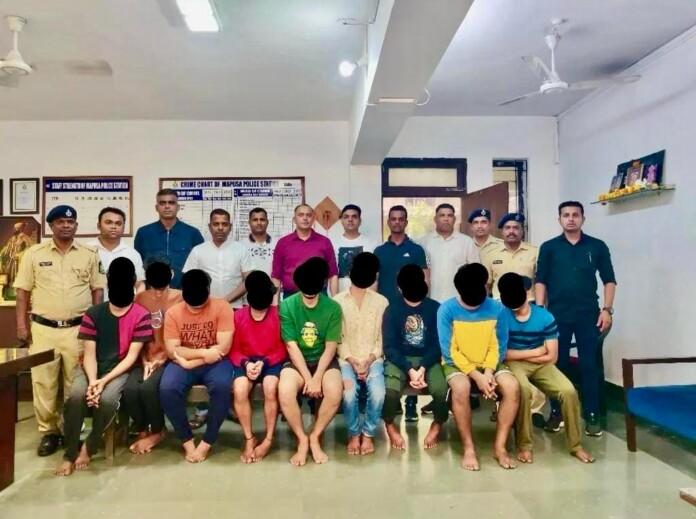 Mapusa Police busted on line gambling racket at Xelpem, Dhuler , Mapusa , Bardez, Goa and arrested Nine persons.
SDPO Mapusa Shri Jivba Dalvi informed that in early morning operation on On 12.11.2023 after acting on tip received from sources, Team of Mapusa Police Station headed by PI Shitakant Nayka under supervision of jivba Dalvi consisting of PSI Gaurav Naik , PSI Dineshkumar Mukhiya , PSI Viraj Korgaonkar , PSI Yashwant Mandrekar , PSI Sunil Patil , Head Constable Sushant Chopdekar , Constables Rajesh Kandolkar , Akshay Patil , Prakash Polekar , Laxmikant Naik conducted raid at house of one Mr. Peter Misquita , Xelpem, Dhuler , Mapusa , Bardez, Goa and apprehended accused who were carrying on online gambling activities by using Mobile hand sets and Laptops.
Mapuca police during raid seized Five Mobile hand sets and Five Laptops all property W/Rs. 03, 50,000/- from the accused Persons.
Arrested accused are
1. Mr. Pankaj Kumar S/o Tejram Nagwanshi , aged 22 years ,
2. Mr. Anshgiri S/o Pramodgiri Goswami , aged 19 years ,
3. Mr. Rahul Jagatram Thakur , aged 23 years ,
4. Mr. Pratik Suresh Baghel , aged 22 years ,
5. Mr. Mohammad Ahamd S/o Fazlul Haque , aged 27 years ,
6. Mr. Prakash Sundarlal Mirjha , aged 30 years ,
7. Mr. David Mohanlal Sahu , aged 24 years
All R/o Bhilai , Chhattisgarh ,
8. Mr. Raja Manoj Kumar Bharma , aged 19 years R/o Hazaribag , Jharkhand ,
9. Mr. Binkesh Sitaram Bhimte , aged 30 years R/o, Madhya Pradesh.
Mapusa Police Station offence U/Sec. 3 , 4 of GDDPG Act registered.
Further, all Nine accused were arrested immediately after registration of crime.
Legal action will be taken against the owner of House for violating the rules and regulations in force .
Investigation is in progress under Supervision of PI Shitakant Nayak , DySP Jivba Dalvi and SP north Akshat Kaushal IPS .