Goa: A rare and complicated Robotic-aided Single and Bilateral (both knees together) Total knee replacement surgeries were performed on 2 different patients by Dr. Rohan Dessai, Consultant Hip, and Knee Replacement Surgeon, Manipal Hospital, Goa. The unique surgery was done using the most advanced active and fully autonomous robotic system currently available across the country and globally.
The Robotic system uses AI to preoperatively determine the size of femoral and tibial components, ensuring a perfect match to the patient's anatomy. A pre-operative 3-dimensional CT scan of the patient's knee is performed and the data is fed into the robotic system to determine the exact size of the implants to be used and to determine the most accurate bony resection levels.
Speaking about the successful surgery, Dr. Rohan Dessai, Consultant Hip and Knee Replacement Surgeon, Manipal Hospital, Goa said, "When compared to a conventional total knee replacement surgery, Robotic knee replacement has several advantages which include maximum possible accuracy, less postoperative pain, and faster recovery to work."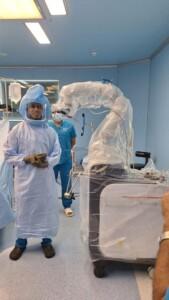 Robotic-assisted knee replacement surgery achieves near-perfect accuracy in implant placement which improves implant longevity. As compared to conventional surgery, Robotic surgery involves minimal soft tissue dissection, and hence postoperative pain is very minimal thereby reducing the need for painkillers.
The patient can walk within 3-4 hours of surgery and can go home the very next day. (24-hour stay for a single knee replacement). This is performed as a Minimally invasive procedure and hence postoperative functional recovery is fast and patients achieve greater range of motion in a short span of time. Patients can expect faster return to activities such as driving a car to playing active sports, Dr. Dessai added.
Commenting on the success of the surgery, Mr. Surendra Prasad, Hospital Director, Manipal Hospitals, Goa, said, "I congratulate Dr. Rohan Dessai, Consultant, Hip & Knee Replacement Surgeon Orthopaedics for the intricate diagnosis and treatment provided, thus giving a better quality of life to the patient. Manipal Hospitals, Goa, has an expert panel of highly qualified full-time super-specialty consultants, who often work together on complex cases with a very scientific and disciplined approach. Dr. Rohan Dessai is trained to operate on such complex cases. Manipal Hospital, Goa is fully equipped to perform such complex and challenging cases."
The patient benefited immensely from the well-coordinated, multi-disciplinary approach, and the excellent support provided by our well-trained nursing staff and clinical assistants, Mr. Prasad added.
About Manipal Hospitals:
As a pioneer in healthcare, Manipal Hospitals is among the top healthcare providers in India serving over 4.5 million patients annually. Its focus is to develop an affordable, high-quality healthcare framework through its multispecialty and tertiary care delivery spectrum and further extend it to out-of-hospital care. With the completion of the acquisition of 100% shareholding in Columbia Asia Hospitals Private Limited and Vikram Hospital (Bengaluru) Private Limited, the integrated network today has a Pan-India footprint of 29 hospitals across 16 cities with 8,300 beds, and a talented pool of 4,000 doctors and an employee strength of over 11,000.
Manipal Hospitals provides comprehensive curative and preventive care for a multitude of patients from around the globe. Manipal Hospitals is NABH, AAHRPP accredited and most of the hospitals in its network are NABL, ER, Blood Bank accredited and recognized for Nursing Excellence. Manipal Hospitals has also been recognized as the most respected and patient recommended hospital in India through various consumer surveys.