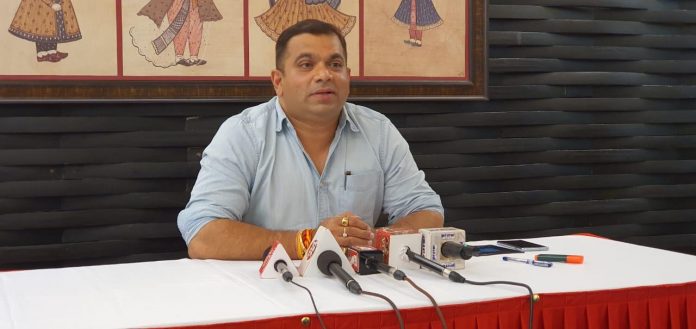 Panaji: Claiming that Goa is going UP and Bihar way, Porvorim MLA Rohan Khaunte said that the innocents are targeted in the state while law and order situation is hitting the lowest ebb.
LA CALYPSO ATTACK
Khaunte said that the recent attack on La Calypso is an example of how police machinery has failed to control law and order situation. Where were the police when several bouncers went into the hotel and held people hostage?, he questioned.
ATTEMPTS TO SAVE WILSON, BOOK INNONCENT IN PRAKASH NAIK CASE
The MLA also predicted that police would make any innocent person scapegoat in Prakash Naik suicide case to save minister Mauvin Godinho's brother, Wilson.
Khaunte said that the prosecution was toeing the line of defence in Prakash Naik death case to ensure that Godinho is given a safe passage from the case.
The MLA remembered Naik as "very helpful person who always worked for the society."
"When he committed suicide, his sister complained that it is a murder. The prosecution was on record that it is a suicide and Mauvin Godinho's brother, Wilson was involved in abetment to suicide," he recalled.
"This is what police findings where saying but last few days whole sequence of event is changing. Now the prosecution says there are angles of murder for this. The lawyer for Godinho said that complaint's sister could be accused.  Cm is hand in gloves to protect his minister and his brother."
Khaunte alleged that the prosecution is moving in the same line of what the lawyer of Wilson Godinho is toeing.
"Tomorrow they will ensure that some innocent person or his sister would be arrested," he predicted.
"The way prosecution is going, Wilson will go scot-free, they will put charge on some innocent person and will ensure that they are arrested."
GOA GOING BIHAR, UP WAY?
Khaunte said that women are feeling insecure to roam freely on the streets. He blamed chief minister Pramod Sawant for the current situation stating that "decisions are taken sitting at Mahalaxmi on law and order machinery."
"We need to ensure that government which is moving headless is moving in a direction which creates insecurity for common man," he said.
"It is right of common citizen to voice his opinion. We need to set example for others. We cannot allow police to act on whims and fancies of people in power today," he stated.
FLIP-FLOP ON SECTION 144 OF CRPC
Referring to the recent notification of terror alert and then its withdrawl, Khaunte questioned "where has the threat gone? Was it decided on sitting at Mahalxmi to impose section 144 and then withdraw it within five days?"
He said that the security of Goans is at stake and also of those people who are visiting Goa.
"These kind of things happen when a person does not have capability to think on his own. That is why I always said that the CM is having weak administrative capabilities," he said.
The MLA said that the law and order should be first put in place.
"I would make a charge that today's government of Goa is itself of criminals. The way they are thinking, the criminal acts that are increasing, every day the crime rate has been increasing. What are police doing?"
"When someone speaks against them, the police are busy suppressing him. When India is a largest democracy, the dissent has to be there, dissent without violence. But the only focus of police is to arrest a person whoever speaks against the government."
Khaunte said that when CM is also Home minister it is his role to ensure that Goa is secured for Goans and those visiting Goa. "But today CM is hand in gloves for all the crimes that are held in Goa," he alleged.
WHAT HAPPENED ON THE DAY OF HIS ARREST
Khaunte said that the united opposition had moved amendment during assembly session for Governor's address.
"I had castigated government over law and order, issues related to Mahadayi. The amendment was aimed to find out the issues which Governor's address does not mention or incorrectly mentions and highlight it."
"Very next day, there was a BJP press conference and I was arrested so fast, as if some big crime had happened. Luckily, Pratapsingh Rane was with me."
Khaunte said that BJP addressing a press conference amounted to "breach of privilege."
"They started by saying ten opposition are against our government and we will target them. They went on a personal attack against me, which was very meager to talk about. I have all legal businesses. Everybody is welcome to go and check."
On the day of alleged incident, when we casually was walking out, the whole issue is made out of an assault. Without happening anything, it was made out to be a crime.
"I know the complainant personally. He was coordinating with me when I was Revenue Minister. May be he was pressurized," the MLA said.
COMMON MAN IS AFRAID TO SPEAK AGAINST GOVT
Khaunte said that the common man is afraid to speak against the government.
"Now MLAs are being attacked. They are trying to create an example, a minor charge is made into a major offence.  People know what is the truth behind these false complaints."