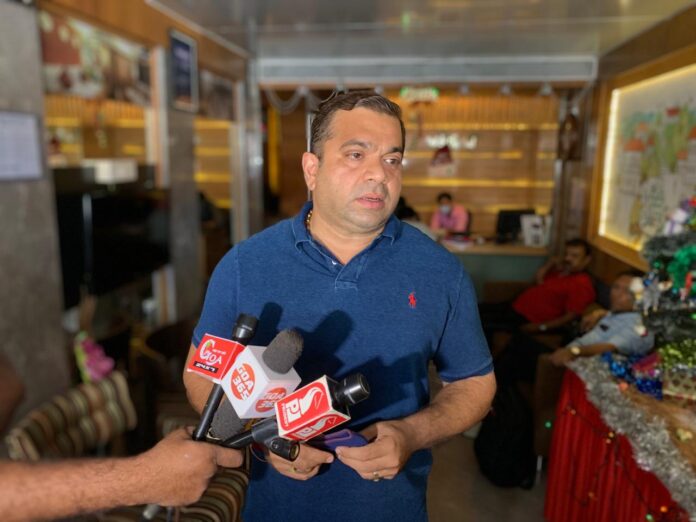 Porvorim: Independent MLA Rohan Khaunte has reacted sharply to the arrest, assault & harassment on people and social activists like Shailendra Velingkar & others protesting against the IIT project at Melaulim.
Khaunte said that the state is going through undeclared emergency, and appealed all the Goans to unite against it, as divided opposition is allowing BJP to score brownie points.
The MLA condemned the assault on Shailendra Velingkar, who was hit by Superintendent of Police, after taking him into the custody.
Khaunte said that the assault is barbaric and illegal, which indicates that the high ranking SP level officials are trying to treat Goa, the way they handle Delhi, Bihar and UP.
" Whenever there are protests, usually, the government should have a dialogue with the protestors. What this government is doing is basically trying to suppress the voice of Goans," he said.
"I salute the people of Melaulim for handling the situation inspite of all the pressures that has been coming on their way. there was cane charge and other attacks. Goans should learn lessons from this," he added.
Khaunte recalled that he had predicted this kind of situation in the state when he was arrested, without any reason based upon a false complaint of assault.
The MLA said that differences expressed by the people through the protests should be redressed by the government by initiating dialogues.
"It is for all of us to ensure that we safeguard interest of Goa and Goans by acting proactively and not by sitting at home," he said.
Khaunte pointed out that the police force in the state comprises of locals, who have to face their fellow state brethrens, while the high ranking officials will be transferred to the other states.
"The police officers, who are posted here from outside the state, have become stooges of the government. I am fearing that Goa is becoming a police state."
Referring to the statement of President of BJP Goa Sadanand Shet Tanavade, Khaunte said that the President is clearly saying that we will not allow Goans at Melaulim. "If he dares, he should go to Melaulim and sort it with a dialogue,"Khaunte added.
"It is time for all the Goans to unite and not have divided opposition. The biggest opportunity for BJP today is that we are divided opposition. This divided opposition is giving BJP enough brownies to attack the people through the police."
"This is just the beginning. I appeal all the Goans to come out and fight back. This will continue unless we sit together. This has led the state to undeclared emergency. Cm is bothered to please the people in Delhi and central ministry to save his chair," he said.
Khaunte also questioned silence of Tribal leaders over the issue. "The tribal leaders who were part of UTTA agitation are silent now. Is it an instance of using people's caste to their convenience? We will come to know which tribal leaders will actively take up for the people of Melaulim."