Panaji: Hundreds of sachets of Gutkha strewn on Colva and Calangute beaches were part of the collection during the Beach Cleaning drive undertaken as a part of India's G20 Presidency.
The event was organized by the Union Ministry of Environment, Forest and Climate Change, the Union Ministry of Earth Sciences, the Department of Environment and Climate Change, the Goa State Bio Diversity Board and the Goa State Climate Change cell.
The personnel of the Indian Navy also participated in the beach cleaning at Colva and Calangute.
State Environment Secretary Arun Kumar Mishra said that the sachets of Gutkha were amongst the major litter that was found on the beaches.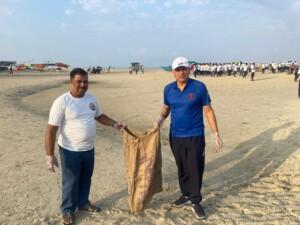 "As a secretary of the Environment department, I will issue the instructions that either these sachets should be processed or we will take the legal remedies (against the sellers of these products)," he said.
Mishra said that the state government will certainly take measures to "rein in on them."
Speaking about the central government's initiative, Mishra said that in the year 2014 when Prime Minister Narendra Modi made this as an agenda, nobody could believe that cleanliness could be an agenda.
"But it is established that cleanliness is an important agenda for the country," he added.
Director of Union Environment, Forest and Climate Change Ministry Dharmendra Kumar Gupta who was personally present to oversee the drive said that people in Goa are very comfortable and beaches are much cleaner.
"During the garbage collection, what we saw is that there are lot of plastic bottles and plastic fishing nets which are in the sand," he said.
 Indian Navy's Flag Officer Commanding Goa Area Rear Admiral Vikram Menon said that it is very satisfying but at one level it is disheartening to see that we are not doing enough, as a community, to look after our beaches.
 "These are such beautiful beaches. We can't expect everything to be done by the authorities. We have to see as an individual that the beaches are not littered," he said.
Member Secretary of Goa BioDiversity Board Pradeep Sarmokadam said that it is the responsibility of individual to clean up the beaches. "It is not everytime that we will litter the beach and the contractors will clean it," he said.
Sarmokadam said that the littering has to be controlled at the source. "We found many packets of Gutka lying here and there. Some action needs to be taken on that," he added.