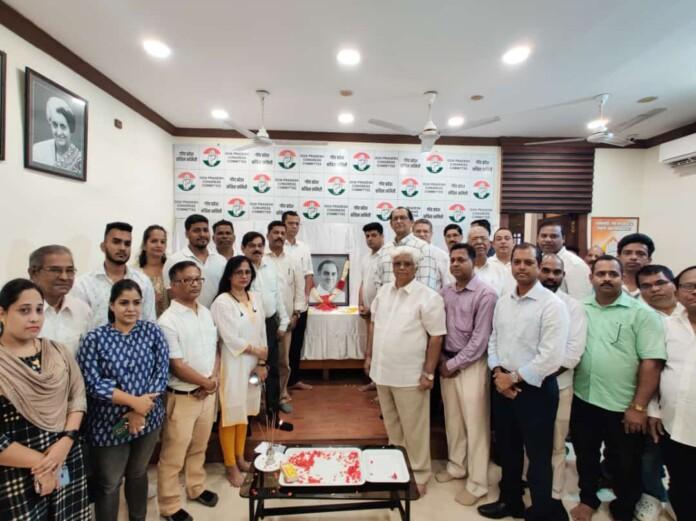 Panaji- While observing the death anniversary of former Prime Minister Rajiv Gandhi, Congress in Goa urged youths to know his contribution to the nation, who led the revolution in telecom and Information Technology.
Rejecting the BJP's propaganda that nothing had happened in Congress regimes in India, Congress leaders said that mobile phones and IT development was the idea of 'Great Son of India'.
Congress leaders paid tribute to their leader by offering flowers on the statue of Rajiv Gandhi at Rajiv Gandhi Memorial Complex in Bambolim.
Goa Pradesh Congress Committee President Amit Patkar administered the oath to fight against Terrorism and to protect and preserve Peace and Harmony in the society.
Later, the Congress leaders also paid tribute to Rajiv Gandhi at Congress House in Panaji.
GPCC.President Amit Patkar,Leader of Opposition Yuri Alemao, Aldona MLA Adv. Carlos Alvares Ferreira, Member of Parliament Francisco Sardinha, former Union Minister Ramakant Khalap, Senior Vice President M K Shaikh, Vice President Gurudas Natekar , Medica Cell Development Chairman Amarnath Panjikar, Subhash Phaldesai, Gurudas Natekar, Viriato Fernandes, Savio D'souza, District Presidents Virendra Shirodkar and Savio Dsilva, Mahila Chief Beena Naik, Youth Cong Vice President Vivek Dsilva and other office bearers and members were present
Speaking on the occasion congress leaders Gurudas Natekar and Capt. Viriato Fernandes said that Rajiv Gandhi lowered voting age from 21 to 18, strengthening Panchayati Raj, revolutionized the Telecom & IT sector and worked for the betterment of people.
MLA Carlos Alvares Ferreira said that Rajiv Gandhi had a futuristic vision and hence we see such development in many areas. "He gave the right of voting to 18 years olds. He worked to empower youths. He was the tallest leader of our nation," he said.
Sardinha said that he was the architect of modern India. "He was a visionary leader. He worked to make progress in the Information and technology sector, he gave voting rights to 18 years age youth," Sardinha said.
Sardinha said that with the efforts of Rajiv Gandhi mother tongue Konkani was included in the 8th Schedule of the Indian constitution and also because Goa got Statehood.
He said that terrorism should be eradicated from the world.
Yuri Alemao said that today worldwide and also in India this day is observed as anti-terrorism day. "We need to work to eradicate terrorism, which spoils peace. There should be peace for better living. Also communal politics should be stopped and shops of hatred should be closed down," he said.
Alemao said that Rajiv Gandhi was the youngest Prime minister and had contributed towards economic reforms. "He brought about the industrial revolution. He created the basics for the growth of the economy," Alemao said.
Amit Patkar said that it is a proud moment for Goa when Konkani was added in eight schedule, which gave identity to Goans. "today wherever we go in the world, we have our identity," he said.
"Today democracy is killed by the BJP. They suppress the voice of people. Communal hatred should be eradicated. Karnataka people have shown it by showing BJP assembly candidates door," he said.
Amarnath Panjikar said that every youth should study the life and contribution of Rajiv Gandhi, only then they will come to know who fostered the telecom and IT revolution in India. "BJP always says that Congress did nothing for the nation, then who did revolution in the areas of telecom and IT," Panjikar questioned.
The full program was compered by Senior Vice President M.K Shaikh and Amarnath Panjikar proposed vote of thanks.