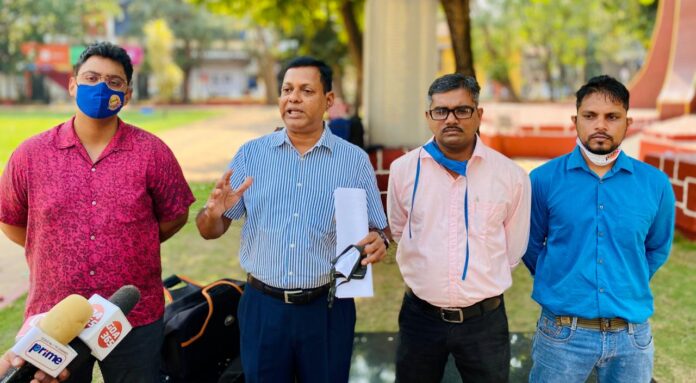 Panaji: Goencho Avaaz expresses disgust over CM's statement that the state can never be Swayampoorna. CM had made the statement during a function at Sindhudurg.
Addressing a press conference at Azad Maidan in Panaji, Goencho Avaaz leaders including Swapnesh Shrlekar, Capt Viriato Fernandes appealed CM to stop issuing immature, ill informed and stupid statements.
"The statements not only belittled the image of Goa but also exposed the lack of vision on the part of the beleaguered government, caught in scams, sell created controversies and power struggle within the government," the leaders said.
GA has said that the ill thought of and immature statements by the Chief Minister that Goa can never be SWAYAMPURNA or a complete Goa and will always be dependent on Sindhudurg or neighboring regions for its essential supplies exposes the lack of self belief in this government.
"This is in direct contradiction to the call given by the Hon. Prime Minister Shri Narendra Modi during the beginning of the pandemic about making ATMANIRBHAR BHARAT and the simultaneous call by the Chief Minister of Goa during that time of Goa being SWAYAMPURNA Goa."
Referring to his second assertion about the MOPA airport, the leaders have said that it is benefitting the people of Sindhudurg speaks of the lack of knowledge and information on the part of the Chief Minister, as he seems to be unaware that the Chipi airport which is within Sindhudurg and is about to go operational anytime now is meant to help the business and tourism sector of Sindhudurg and neighbouring areas.
"And hence Goencho Avaaz and the people of Goa would like to enlightening our ill informed Chief Minister about this well known fact, and it is better late than never that the government take a call on the MOPA airport and closes further work on the same, as MOPA airport was only meant as a source of exploitation for making huge profits for the real estate lobby and to set up casino operations, destroying the agricultural land, the cashew plantations, orchards, plateaus. etc, and most importantly, the destruction of the people of Pernem taluka."
The GA has said that his third assurance that Goa Medical College will continue to serve the people of Sindhudurg further exposes his lack of love for Goa and Goenkars, as instead of improving the situation in GMC by providing beds to the patients from Goa, who are mostly left lying on floors and stretchers, the accidental Chief Minister promises the people from neighbouring state of giving them best facilities of Goa Medical College.