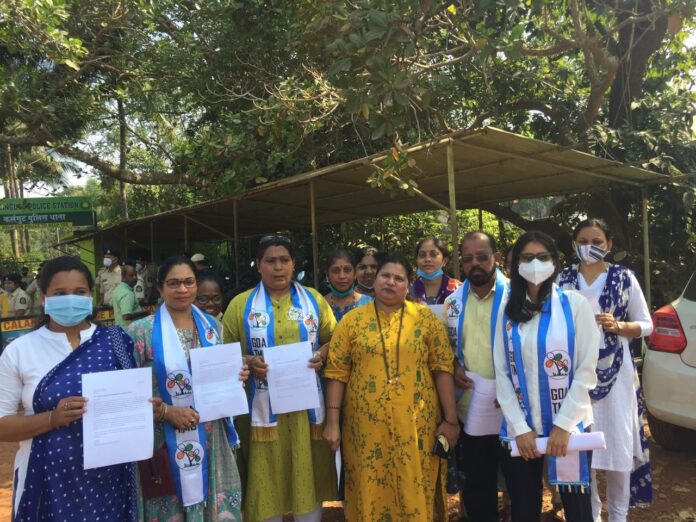 Demanding a fair and transparent inquiry into the Siddhi Naik murder case, Goa TMC leaders including Smt Kavita Kandolkar, Smt Avita Bandodkar, Smt Pratibha Borkar, Smt Priya Rathod and Advocate Seoula Vas amongst others submitted a memorandum at Calangute police station earlier today. Siddhi Naik's father Shri Sandeep Naik who recently joined Goa TMC was also present at the police station.
Over 200 policemen had been deployed in the vicinity after the Goa TMC planned to 'gherao' the police station to question if some VIPs were being protected by the Pramod Sawant Government in the case.
Addressing the media, Goa TMC leader Smt Kavita Kandolkar said, 'We have submitted the memorandum to the police inspector demanding fair investigation into the death of Siddhi Naik. Since the case now falls under Section 302 of the Indian Penal Code (murder), we demand a transparent inquiry and want the culprits to be nabbed & punished.'
Remember, the case had been brushed aside as a 'suicide' in the earlier probe. However, mounting pressure by Goa TMC forced the authorities to investigate the murder angle.
Goa TMC leaders highlighted that when 19-year-old Siddhi Naik's body was found on Calangute beach in August last year, there were multiple glaring lapses because of which the inquiry had been compromised. Goa TMC reiterates that it is because of the laxity on part of the BJP Government that until today, the cause of Siddhi Naik's death has not been ascertained conclusively.
Goa TMC leader Advocate Seoula Vas said, "The case has now been registered as murder, so we demand that whoever committed this horrific crime must be arrested within 24 hours. There has been destruction of evidence in the case over the past 5 months. The new inspector should find the murderer. We want justice.'
Goa TMC would also like to highlight how crimes against women are at an all time high in Goa under the BJP rule. Not just that, conviction rate in rape cases is also dismally low. Given the scenario, Goa TMC vows to continue fighting for Siddhi Naik until justice is served and perpetrators of the horrific crime are put behind bars.