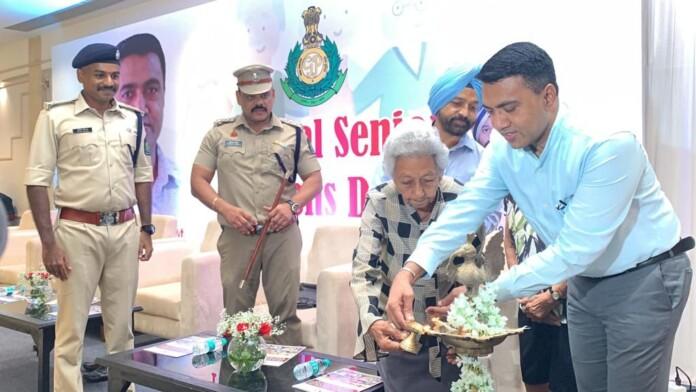 In commemoration of National Senior Citizens Day, the Goa Police hosted a heartwarming program dedicated to the elderly residents of North Goa. The 24×7 Care Foundation actively participated as the NGO partner serving towards alone living elderly.The event, held on 21st August,2023 at Anantya Banquet Hall,Mapusa, was graced by the honorable Chief Minister, Mr. Pramod Sawant, and witnessed the participation of the Director General of Police Mr. Jaspal Singh IPS, Inspector General of Police Mr. Omvir Singh Bishnoi of the Goa Police. The program also marked the presence of seniormost elderly above 90 years of age who shared their wisdom at the heart of the occasion.The initiative was set in motion by SP North Goa, Mr. Nidhin Valsan IPS, while SDPO Mapusa, Mr. Jiva Dalvi, led the meticulous organization of the event.
The event's inauguration was marked by a heartfelt welcome speech by SP North Goa, Mr. Nidhin Valsan IPS. In his speech, he articulated his vision to provide support and assistance to elderly individuals living alone, emphasizing the importance of their well-being and integration within the community.
Director General of Police mentioned that Goa Police is always there to extend a helping hand for needy elderly and community building is one of the priorities of Goa Police.
The program was an exceptional affair, tailored to bring joy, care, and empowerment to the elderly citizens of Goa. The festivities included a health camp, a mesmerizing magic show, enchanting cultural dances and songs, engaging games, and a variety of fun activities, all designed to cater to the preferences and needs of the senior citizens. The elderly actively participated and enjoyed the activities arranged for them.
Senior Citizens who showed that age can not bar their talent and dedication towards serving the society were also felicitated by the Chief Minister Mr. Pramod Sawant.
A significant highlight of the program was the unveiling of the "Smart Elder" booklet, a comprehensive guide created by joint efforts of Goa Police&24×7 Care Foundation to help seniors navigate modern technology applications while ensuring their cyber safety. This valuable resource was launched by the Chief Minister, Mr. Pramod Sawant, symbolizing the convergence of technological advancement and elder care.
Moreover, a special t-shirt designed by the Goa Police for the elderly participants was distributed, signifying the spirit of unity and respect between the law enforcement agency and the senior citizens.
The event concluded with a vote of thanks by SDPO Mapusa, Mr. Jiva Dalvi, who expressed his gratitude to all attendees, participants, and sponsors for making the event a resounding success. The collaboration of the Goa Police and 24×7 Care Foundation was highly praised by Chief Minister Mr. Pramod Sawant and other dignitaries present, who recognized the importance of these joint efforts in providing care and support to the elderly residents of Goa.
The event was generously sponsored by Thalassa, a testament to the unwavering commitment of local businesses towards community welfare.