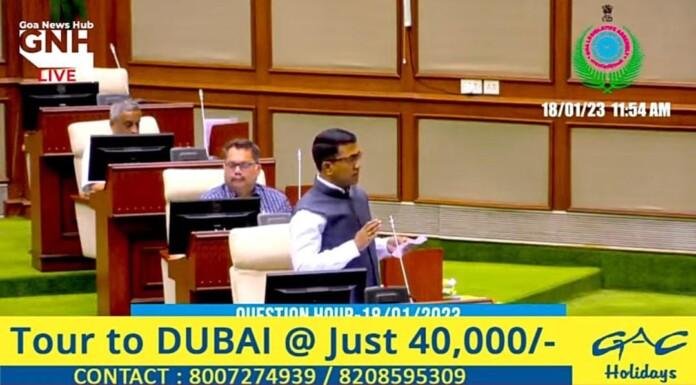 Panaji: Chief Minister Pramod Sawant told the House on Wednesday that his government is contemplating the possibility of including penal provisions in the Official Language Act, 1987 of the state for its proper implementation.
During the ongoing winter session of the State Legislative Assembly on Wednesday, the opposition benches including Leader of Opposition Yuri Alemao, Congress MLA Altone D'Costa, Goa Forward Party MLA Vijai Sardesai and AAP MLA Venzy Viegas questioned the state government over the non-implementation of the official language act in the state.
Sardesai pointed out that the website of Official Language Department of the state government itself is in English and not in Konkani. He said that majority of the websites that claim to be in Konkani, are diverted to the English version once clicked on them.
Congress MLA D'Costa said that the Konkani was declared as the official language of the state after a prolonged fight but despite that the implementation of the Act is not happening.
AAP MLA Venzy Viegas demanded that the state government should give a deadline when the Act would be implemented in toto while Leader of Opposition Yuri Alemao suggested that the state government should increase the fundings for the organizations like Goa Konkani Academy, which are working for the upliftment of the language.
Responding to the discussion, Sawant conceded that there is no penal provision in the official language act, which needs to be included by amending the law.
He said that the implementation of official language act should be made compulsory.
During the discussion, Sardesai pointed out that majority websites of the state government are not bilingual. The chief minister said that the state government has started the process of converting all the government websites into bilingual. He did not give any specific deadline when all the websites would be made bilingual but added that the state has already appointed translators who are on the job.
.