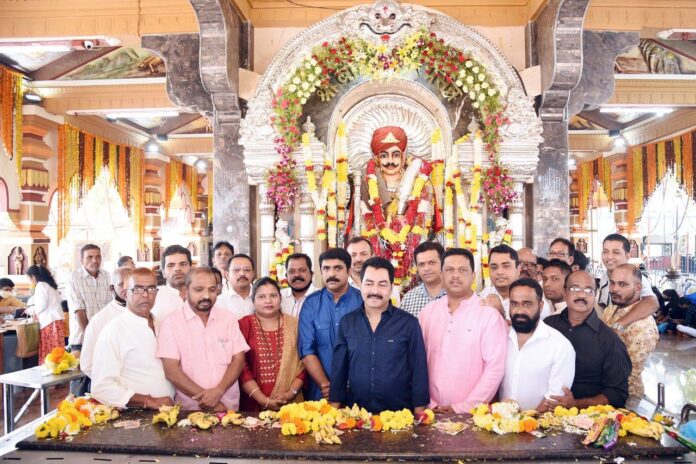 Goa Forward Chief Vijai Sardesai, Working President Kiran Kandolkar, Saligao MLA Jayesh Salgaonkar, Siolim MLA Vinod Palyekar, Vice President Durgadas Kamat along with Goa Forward candidates Santosh Sawant (Mayem), Deepak Kalangutkar (Mandrem), Venkatesh Naik (Ponda), Jagdish Bhobe (St.Andre), Jitendra Gaonkar (Pernem) , Kavita Kandolkar ( Tivim) sought divine blessings from Dev Bodgeshwar on the occasion of the annual zatra at Bodgini, Mapusa and took a solemn oath before the deity to never align with the BJP under any circumstances in the future .
While speaking on the occasion Working President Kiran Kandolkar said that they have come to pray before the deity to bless them to strengthen the party in every nook and corner of the state. He asserted that the Goa Forward Party will do everything possible to defeat the BJP which is now become the Bhrashtachari Janata Party.
Kiran recollected that BJP leaders who were part of the MOI agitation in 2012 had then taken an oath before Dev Bodgeshwar and then had gone back on their word after coming to power. He reminded those present that these individuals had suffered with curses from the deity for not keeping up to their promises and the oath. He added that all communities of Goa have great faith in Dev Bodgeshwar and strongly believe that the lord does not forgive those who take false oaths before him.
GFP President Vijai Sardesai addressed the press that the GFP would never allow the BJP to come to power in any way, directly or indirectly, in 2022. He further said that he had begged forgiveness for past mistakes and that the battle now is between Team Goa and the BJP. He appealed to all opposing the BJP to join Team Goa to #SaveGoaNow. He added that this Sawantwadi Government is working overtime to sell Goa lock, stock and barrel and that it is the duty of each self-respecting Goemkar to be part of Team Goa to defeat the corrupt and anti-Goa Bhrashtachari Janata Party.