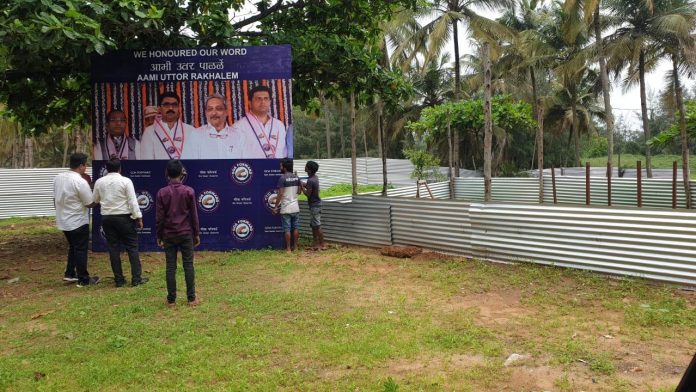 Miramar: Swearing by late Manohar Parrikar, Goa Forward Party (GFP) has decided to be a watchdog of the current dispensation, which has been formed after inducting former Congress MLAs.
Mixed emotions were in the air when Goa Forward Party Chief Vijai Sardesai, who drew all the flak for having alliance with BJP in 2017, recalled his meeting with former chief minister, couple of days before his death.
"I had asked Parrikar what does he plan to do next. He told me that we had formed this government for five years. Whether I am there or not there, you have to continue with the government," Sardesai recalled in his speech, which was laced with emotions and anger.
Sardesai said that the state leaders like Pramod Sawant or Satish Dhond were not the part of discussion when GFP agreed to be the part of NDA under the circumstances of fractured mandate.
Goa Forward Party chief warned State government that they will be watchdog and every move of theirs would be under scanner. "We will not the government compromise with the agenda of Goemkarponn," he said.
All the three GFP MLAs were present for the meeting which was attended by other party workers too. "Aami Uttor Rakhlem" was the common feeling amongst the party leaders and cadres, who were anguished over the conduct of BJP.
Soft spoken former WRD minister Vinod Palyekar lauded the character and style of functioning of former CM Parrikar. He said that it was only because of him that GFP agreed to join the government.
He rubbished claims of Michael Lobo that interest of traditional fishermen was compromised by GFP. He listed out the measures taken to make sure that the traditional fishermen are at the core of policies.
Jayesh Salgaonkar was piqued at the statement that GFP ministers were arrogant. "If they call be arrogance, then they should change the definition of arrogance," he said.
Salgaonkar said that he was not willing to join the government, but did it only to support Parrikar.