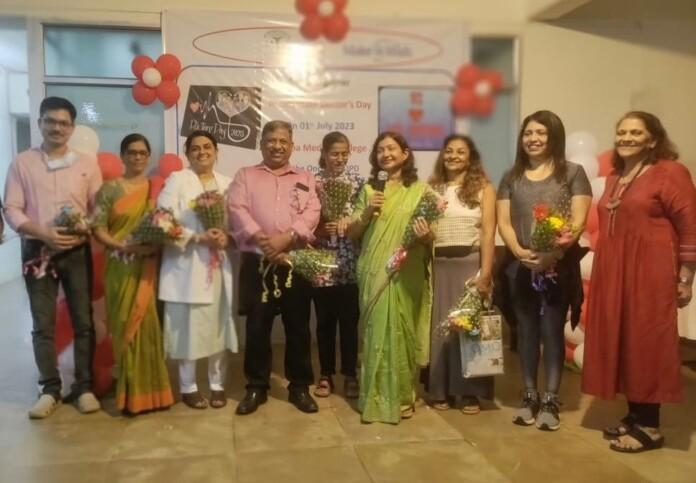 Bambolim: Doctor's Day was celebrated today on 1st July 2023 in OPD 28 premises.
Dr. Anupama Borkar,Head of medicsl Oncology, GMC in association with Make-A-Wish Foundation of India conducted a memorable event that was attended by doctors, children, parents and many well-wishers.
This event saw eminent and respected authorities like Dr. Shekhar Salkar, who shared how happy he is to see the smiles on the children's faces and note the progress children have made in their medical journey. On behalf of the Goa Cancer Society, he congratulated Make- A-Wish India for their continued efforts that encourages children to stay motivated and complete their medical treatments, and assured Make-A-Wish India of the continued support from Goa Cancer Society.
Dr. Anupama thanked the team of doctors who during the COVID period have gone the extra mile to take care of the children, and now these children have completed two years of medical treatment and are on the path of recovery.
Dr Jose chief of dept of microbiology, dr Chitra dhume chief of dept of biochemistry n dr maya kharangate were felicitated on doctors day for their hard work behind the curtains during Covid time. Also present on the occasion was dr Shreedharan surgical oncologist from Manipal Hospital.
Deepak S Bhatia, CEO, Make-A-Wish India shared the sincere appreciation of all doctors and medical teams that refer children for a wish granting program. Across the 11 offices of Make-A-Wish in India, wishes of over 150 children have got granted today. Wishes like children who want to ride a bicycle to school or have a laptop to complete their education to become a doctor someday, are the type of wishes that got granted. Cipla Foundation, Goa Cancer Society are some of the eminent donors that make these wishes come true.
The event saw children making thankyou greeting cards for doctors, doing the Zumba dance, and singing songs with the junior doctors. A sumptuous lunch was arranged for over 100 participants who had gathered to make this event memorable.
For any additional information, please reach out to Deepak S Bhatia, CEO, Make-A-Wish India on ceo@makeawishind.