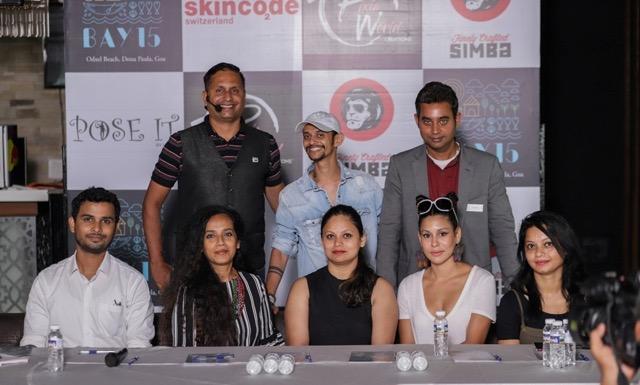 Panaji: According to Forbes India, the global consumer spending on fashion crossed US$1.5 trillion in 2015. India's fashion retail market is itself set to grow to US$115 billion by 2026. However, Indian fashion and textile brands need to warm up to the emergence of a new connected consumer, well synced with the latest in global apparel and fashion trends, if they are to capture their due share of this growth.
Stepping in to add might to the fashion industry with a unique flavour of its own, is Pixie World Creations with a curated designers collective platform called `Glitterati 2018.' Envisaging to unite recognised as well as budding designers and allied talent on a single platform, with multi-faceted design talent curated from across Goa, Bangalore, Mumbai, Kolkata, Delhi and Chennai, Glitterati 2018 believes fashion collaborators can together support an industry and its talent with engaging economically viable platforms for each other.  Towards this endeavour, Pixie World Creations intends to curate fashion platforms every four months, using Goa as a lifestyle destination.
Interacting with Press during the meet, Deepa Bhat, CFO, Pixie World Creations said, "We aim to create glamorous fashion seasons every four months to connect the `who's who' from the fashion and lifestyle industry, and give a platform to new designers, gen next designers, models and fashionistas." 
Supported by Skincode India, a world renowned Swiss based skincare brand now available in India, Glitterati 2018 will also provide a fashion platform for the brand to make its presence felt across consumers looking for high quality skin care products.
Rupali Yadav, Director & Co-Founder of Skincode India, stated, "The Indian cosmetic market is growing at a very fast pace. Rather than going for any non-branded over-the-counter creams, todaywomen in India are making more informed choices when it comes to their skincare products. Skincode India aims to cater to the specific needs of such women and provide them with the high-quality skincare products that they deserve."
Preeti Dhawad, Director & Co-Founder of Skincode India added, "Swiss-made products are known for their excellence, high quality, and precision – Skincode products live up to those expectations and reflect the purity, quality, and precision that one expects from Switzerland."
Scheduled to participate at the event are designers DJ Tanmay (Bangalore), Tanya Batra (Chennai), Kingshuk  Bahaduri (Dehradoon), Safeena Khan (Lucknow), Mary Macklin Fernandes (Goa) supported by showstoppers  Deborah Alrea Dias, Varsha Sharma and models like Ritwika Mukherjee, Manisha and so on.
Also joining hands with Glitterati 2018 is  Show Director Raghu, supported by Beverage Partner Simba Beer, while Venue and Hospitality Partner, Bay 15, Dona Paula will host the event on November 11, 2018.
Speaking at the launch, Beer Evangelist, Apoorv Ranade, Simba Beer shared, "Simba is delighted to be associated with Pixie World Creations for Glitterati 2018 and the fashion platform. Our products are finely crafted by people who believe in authenticity and the highest quality. We look forward to more associations with fashion and glamour events."
Glitterati 2018 is brought to you by Pixie World Creations, Bangalore.