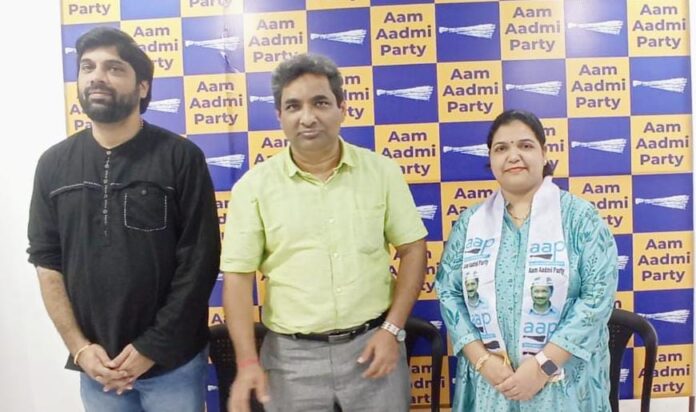 Bardez Bazaar Consumer CO-operative Society's First woman chairperson Poonam Azgaonkar joined AAP today in presence of AAP Goa Convenor Rahul Mhambre. Joint Secretary of AAP Goa Vignesh Apte also was present at the joining. Azgaonkar said that she was impressed by the Kejriwal model and wanted to work for the betterment of Goenkars and felt AAP was the best way to do this
AAP Goa convenor Rahul Mhambre said, "after 60 years of liberation, the state is still lagging in terms of providing basic facilities. On the contrary, the AAP which has been in Delhi for the last six years have brought a tremendous change in Delhi. Be it education infrastructure or mohalla clinics, every project has been appreciated by all over the world".
Speaking to the Press Poonam Azgaonkar said "I am very impressed with the work that Arvind Kejriwal has done in Delhi. He has revolutionised the education sector and has given Delhi a corruption free Govt. Today Goa needs honest parties like AAP."
Ahead of the 2022 Assembly elections in Goa, Aam Aadmi Party national convenor and Delhi Chief Minister Arvind Kejriwal on Sunday announced to give ₹1,000 per month to all women above the age of 18 years and that the Griha Aadhar scheme will be increased from Rs 1,200 to Rs 2,500, if the AAP formed the next government in the State.
AAP has been growing from strength to Strength as the party campaigns aggressively in the state. It recently head MAssive Rallies across the state culminating with a Maha rally which ahd more than 10,000 people attending to listen to Arvind Kejriwal.
"Many Goenkars see AAP as the only option to defeat the BJP. Many Goenkars from all walks of life have joined the party and many more will join the party in the days to come" said AAP Goa Convenor Rahul Mhambre.