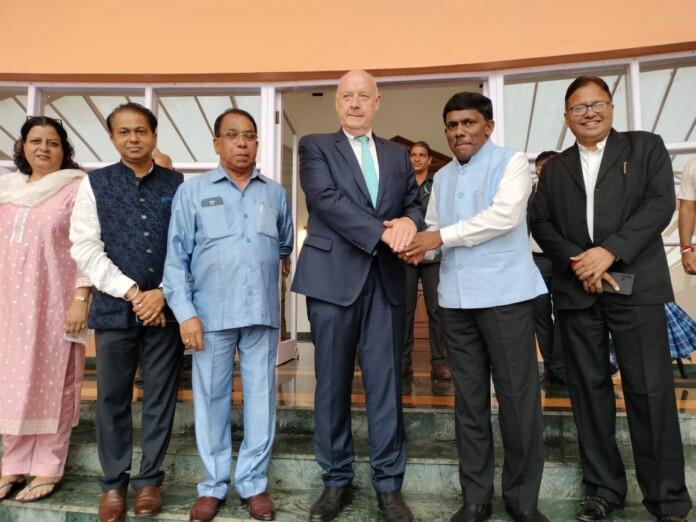 Panaji: While discussing the possibility of the technology and knowledge exchange in various fields between his country and Goa, a diplomat from Denmark on Saturday said that he would also pursue the matter of resumption of chartered flights between both the destinations.
Ambassador of Denmark Freddy Svane on Saturday was in Goa during which he met Chief minister Dr Pramod Sawant and also visited Goa legislative Assembly complex where he was welcomed by Speaker Ramesh Tawadkar and State Water Resources Department minister Subhash Shirodkar.
Svane also visited Basilica of Bom Jesus at Old, where the relics of St Francis Xavier are preserved.
Talking to reporters after series of meetings, Svane said that the chartered flights connected Denmark and Goa before COVID-19 outbreak, which has stopped now. "I see huge potential here for tourism. I will go back and try to see whether we can bring Goa back on the track," he said.
Svane said that when COVID-19 hit the world, Denmark was working to get its citizen back in the country and then found that majority of their citizens in India where in Goa.
The Ambassador toured the State Legislative Assembly complex at Porvorim, near here in the evening.
Speaking about the tie ups on various fronts, Svane said that
Goa is the smallest state in India, Denmark is one of the small country.
"I think we can have lot of cooperation over the years in energy, fishery, diary and others. We are ready to work with Goa," he said.
The Ambassador said that there are several companies (Industries) from Denmark operating in Goa. While refusing to give more details, he said that one of the company is going to roll out a major investment in Goa soon.
Svane said that during his interaction, he had "very nice" discussion with various ministers. He said that his discussion with the chief minister was "pro-active" and "action-oriented."
He said that Denmark would like to work with Goa as it is already working with other Indian states like Tamil Nadu, Uttar Pradesh, Assam and Rajasthan.
" We are good at energy efficiency but we can't impose on you what we are good at Denmark," he said adding that the country also wants to work in the field of fishing, acquaculture and water resources with Goa.
"All the drinking water in Denmark comes from underground. We would inspire our friends here to take some of the inspirations here," he said.