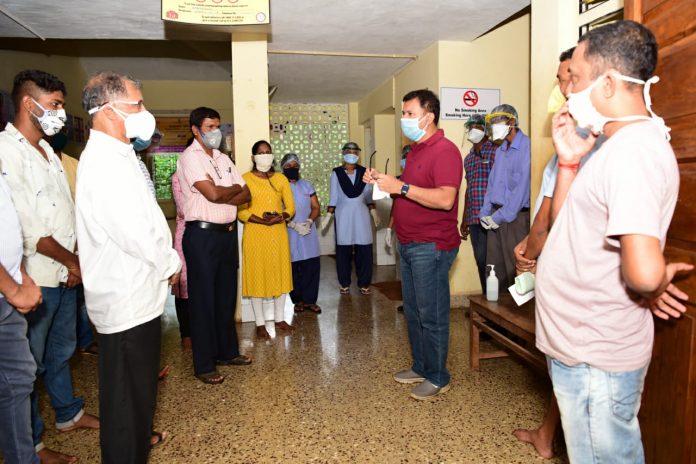 Panaji: Health Minister and Valpoi MLA Vishwajit Rane swung into holding series of meetings in his constituency on Thursday after few cases were reported in the area.
Rane visited Rural Medical Dispensary, Keri to take stock of the situation amid rising cases in the area.
"I am glad to see all the health protocols being followed by officials as well as our people. It is imp we take all the precautionary measures to break the chain of transmission," he said.
The health minister also reviewed the situation at Morlem today morning. "Happy to see all our people abiding by the lockdown rules & following all safety protocols. The people of Morlem always have my support & can count on me in any situation. Working towards ensuring the safety of my people," he said.
"With two new case reported in Malpan, we have taken all effective measures for safety of our people. Swab testing will be conducted for those in contact with the patient," he said.
Rane said it is my sincere appeal to be careful and vigilant and follow self-care guidelines to keep the virus at bay.
"Rural Medical Dispensary, Guleli is geared up amidst rising cases of COVID19 in the state. During my interaction with health officials of Guleli, I ensured them my total support in these hard times. I'm certain that with the measures undertaken we will curb the spread of #COVID19," he added.
In yet another tweet, he said "I am committed to the welfare of the people of Sattari & Usgao, we will take all the necessary precautionary measures to fight this war against #COVID19"
"Interacted with our people at Usgao today morning, also reviewed the situation amid rising cases in the constituency. During my visit, I ensured all the norms were being followed by the people that will help us to curb the spread of the virus."