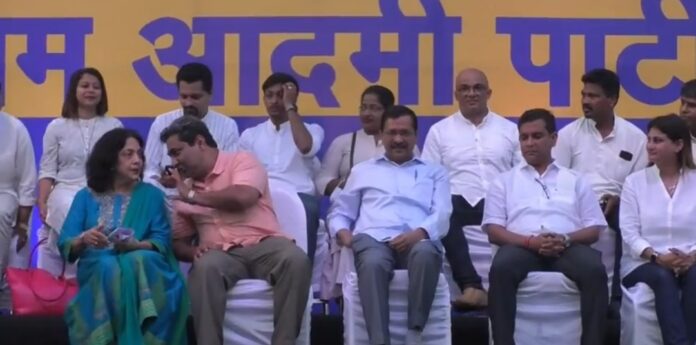 Panaji: Aam Aadmi Party (AAP) National Convener Arvind Kejriwal taunted the spree of resignations from Congress as the clearance of the stock.
"I don't understand politics and moreover, I don't understand politics of Goa. Yesterday, I was travelling somewhere, when I was boarding the flight, Congress had 3 MLAs, when the flight landed, Congress had 2 MLAs," Kejriwal said addressing public meeting in Panaji on Tuesday.
He said that people have elected 17 Congress MLAs five years back. "Fifteen are sold, only two are remaining, they are the last stock. Little stock is remaining," he said.
Kejriwal said that the fresh stock in the March. "There is heavy discount on it, those who want to take last stock, they can take it. This is the situation of Congress," he commented.
 "Goa is the first class state with third class politicians. People here are good but politicians are worst. Goa deserves better people," he commented appealing the people to vote for AAP which is providing honest and clean politics.
The Delhi chief minister said that earlier there used to be horse trading of MLAs but now there the candidates are being sold.
"We have seen how they jump from one party to another. We have heard how the candidates are  sold for crores," he commented.
He said that the AAP has come up with Goa's model of development, which is designed after taking into consultation the people.
The Delhi said that AAP will form the first "corruption free" government in the state. He said that there is no dearth of revenue in the state but it does not go down for development because of corruption.
"We assure you that not a single rupee would be allowed to be siphoned off. There will be zero tolerance towards corruption in Goa," he assured.
Kejriwal said that neither BJP nor Congress wants to resume the mining industry as "their intentions are not proper."
"AAP will resume mining industry within six months of assuming power in the state," he said adding that till the industry (mining) resumes, each family of the mining dependent would be given Rs 5,000 per month as a remuneration.