The Covid-19 pandemic, its challenges and the subsequent lockdowns have showered us with many blooming and innovative ideas. One such thought struck Goan friends, who are winning hearts by providing home-cooked food to the Covid-19 patients and their families.
The duo, Apoorva Gramopadhye and Pratibha Borkar, started off by providing vegetarian meals to the home-isolated people of the state. Their nutritious and delicious meals were liked by the people so much that they decided to start out a new venture 'Apoorva's Kitchen'.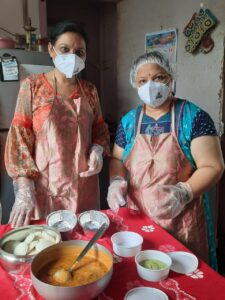 "We started off with an idea of helping out COVID-affected people, who were home isolated and couldn't prepare their meals. And, within no time, our venture reached new heights  and we turned this initiative into a full-fledged business.  We provide satvik vegetarian food for breakfast, lunch and dinner. Our food is home-made, tasty and easy to digest. We also deliver the food at their doorstep," Gramopadhye told Goa News Hub.
The food is cooked keeping all the nutritional value needed for a Covid patient's speedy recovery.
"Their taste buds are disturbed so we have to make the food tasty as well as attractive. Along with patients our client base has also expanded to non-patients too," she added.
Veena Kamat, a client who ordered food from Apurva's Kitchen, opined, "Home-cooked food is best suited for me. One of my close friends recommended me Apoorva's kitchen, I am thankful to have found this home cooked food delivery"
Whereas, another consumer Poorva Agashikar added "Apoorva's Kitchen has exceeded my expectations, they never repeated a single dish. Moreover, their hot, steaming and fabulous food at the doorstep has helped me recover and nurse back to our health"
In the near future, the duo aims to hire even more people so that they can expand their business.
Goa News Hub wishes the duo luck!