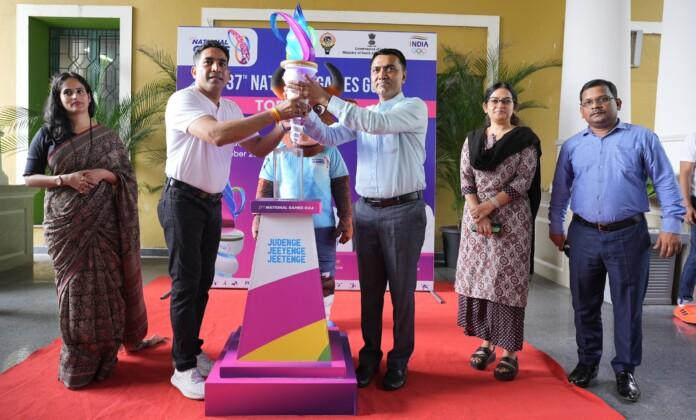 Panaji: Goa chief minister Dr Pramod Sawant on Tuesday inaugurated the torch relay for the upcoming 37th National Games 2023 in a ceremony held at Porvorim, near here.
State Sports and Youth Affairs minister Govind Gaude and others were present on the occasion when the chief minister inaugurated the torch relay for the upcoming games.
The torch relay will run through all the talukas of the state, covering the length and breadth of this region.
Speaking to reporters after inaugurating the relay, Sawant said that the torch, a symbol of the eternal flame of sportsmanship, embodies the commitment to athletic excellence.
"Be assured, Goa is fully prepared to host this prestigious event, and the torch will journey through our beautiful state in all 12 Talukas and will cover all major tourist destinations in the evening, igniting enthusiasm for the National Games and involving rural areas in this grand celebration," he said.
He said the torch carries the spirit of never-ending flame of sportsmanship so let's join hands to celebrate Sports and India in Sports.
After travelling across Goa, the torch will arrive at Pandit Jawaharlal Nehru Stadium on October 25 prior to the opening ceremony on October 26.
Prime Minister Narendra Modi will be inaugurating the 37th edition of the National Games.
Gaude said that we are at the defining moment in the sporting history of Goa. We are not looking at the 37th National Games as a mere event but a roadmap for rejuvenated sports ecosystem for the state.
"With the record number of sports disciplines incorporated in the current edition, this edition will be the biggest ever National Games organised in the country," he said.
Gaude said that he is hopeful that these Games will create new interest and focus on Olympic Sports in Goa.
The organizers of the National Games said that the prestigious event will see participation from 28 states and 8 union territories, with over 10,000 athletes and 2,000 officials.
Notably, badminton will lead the charge, commencing seven days before the Prime Minister Shri Narendra Modi inaugurates the National Games Goa 2023 at the Pandit Jawaharlal Nehru Stadium.