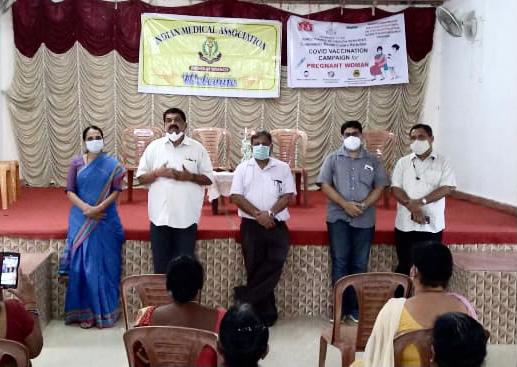 IMA Bicholim and CHC Bicholim today joined hands to organise an awareness program on "Safe Motherhood", "COVID vaccination in pregnancy " and the importance of "World Population Day" at Tari Hall for Ladies of Shantaram Nagar and Sudha colony in Bicholim.

The event was attended by hon'ble speaker Shri Rajesh Patnekar, IMA Bicholim branch President Dr Medha Salkar, Past President Dr Shekhar Salkar, members Dr Kaustubh Patnekar, Chief Guest Dr Mithun Mahatme, Vishwas and Mrs Archana ji.

Dr Mithun shared insights on "Safe motherhood ", Dr medha highlighted the significance of "world population day "and "vaccination in pregnant woman". Dr Shekhar Salkar and Dr Kaustubh and others answered all the queries of the people.

Patnekar congratulated IMA Bicholim for causing awareness on such burning topics . He also praised the efforts made by CHC Bicholim in such unprecedented times.