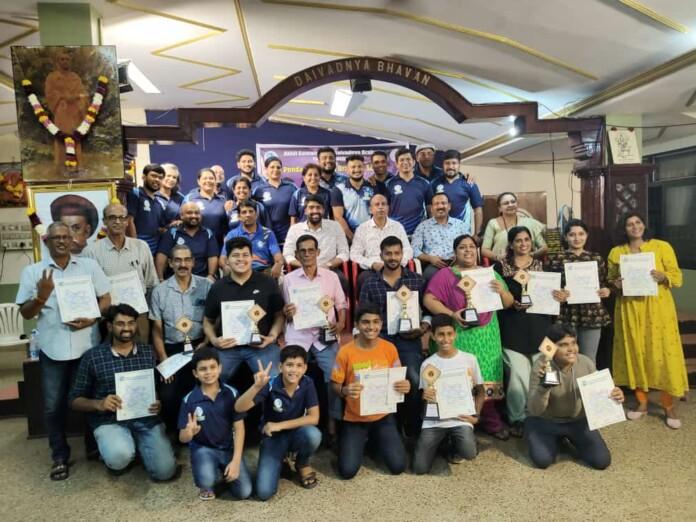 Panaji: The Akhil Gomantakiya Daivadnya Brahmin Youth Association (AGDBYA) and Ponda Daivadnya Brahman Samaj supported by Goa Carrom Association organized "3rd Daivadnya Carrom Tournament 2023" on Sunday 6th August 2023 at Daivadnya Hall, Ponda Goa.
This competition was held in four categories, Men (15-49 years), Women (15 years & above), Veterans (50 years & above) and Kids (below 15 years). We received 120 entries in total.
Mr. Prashil Salkar, President-AGDBYA and Mr. Deepak Lotlikar, President-Ponda Daivadnya Samaj welcomed all the guests. Prashil Salkar, in his speech, quoted " AGDBYA, founded in 2009 always thrives to bring our community people together by organizing various activities such as Health camps, Career guidance camps, Sports events etc and AGDBYA also provides helping hands to our needy students by giving them books, fees and other Educational help". He also congratulated the winners.
The Chief Guest of the function Shri Rajendra Anant Haldankar, Asst. Director, Fire & Emergency Service, Goa, thanked the organizers for putting together this impressive event and professionalism shown. He also added such kind of events enable our local players to showcase their skills and talents, contributing to youth progress and also extended his sincere gratitude to organizers for extending him this privilege.
The results of Carrom tournament are as follows:
Men (15-49 years)
Winner – Anay Raikar ; Runner up – Rounak Sandeep Raikar
2 Semi Finalist – Viresh Rivankar & Laxman Chodankar
Women (15 years & above)
Winner – Shilpa Verlekar ; Runner up – Shashi Walke
2 Semi Finalist – Saloni Sangodkar & Deepa Anvekar
Veterans (50 years & above)
Winner – Vinayak Rivankar ; Runner up – Guiresh Bandodkar
2 Semi Finalist – Devanand Lotlikar & Rajendra Lotlikar
Kids (Below 15 years)
Winner – Rutvik Nagzarkar ; Runner up – Gaurang Anvekar
2 Semi Finalist – Siddharth Bandodkar & Laksh Chodankar
The winners were awarded at the hands of Chief Guest Shri Rajendra Anant Haldankar. Other winners were awarded at the hands of by Mrs. Sneha Kadnekar, President-Ponda Daivadnya Mahila Mandal, Mr. Deepak Lotlikar, President-Ponda Daivadnya Samaj and Mr. Prashil Salkar (President-AGDBYA).
AGDBYA also felicitated Dr. Saurabh Raikar for achieving the remarkable feat of becoming the youngest PhD. in Engineering from Goa University.
Mr. Suresh Rivankar compared the prize distribution ceremony. The event was concluded by AGDBYA Secretary Mr. Rohit Vernekar by thanking the participants, volunteers, spectators, guests, referees, sponsors and all the helping hands that made this tournament a great success.
The entire event was conducted with the support of AGDBYA volunteers.