Sattari: A major portion of Maloli village bridge fell down on Wednesday evening due to the continues rain in the state. The Maloli village bridge was built during Portuguese time. The bridge is almost hundreds plus years old. And It is connected to the six rural villages. They are Satrem, Nanoda, Vaiginem, Kodal, Maloli and Bambar village.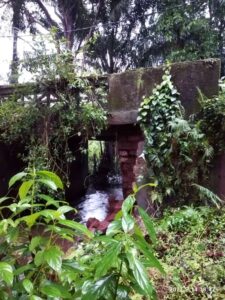 According to the villagers the Bridge is almost on the way to collapse. If the heavy vehicles travel on this bridge then it will fall down.
For the last six years the locals are demanding to the Village panchayat that to repair this bridge. The two years ago this bridge were repaired by the PWD department. But it is not repaired properly. They had done the plaster to some parts of this bridge, said locals.
Per day around 200 vehicles are travelling on this bridge. Also the tourists are coming in this area in large numbers to visit at waterfalls. Despite the villagers have putted the ban on waterfalls visit. If this bridge falls down then there will be the major casualties, say villagers.