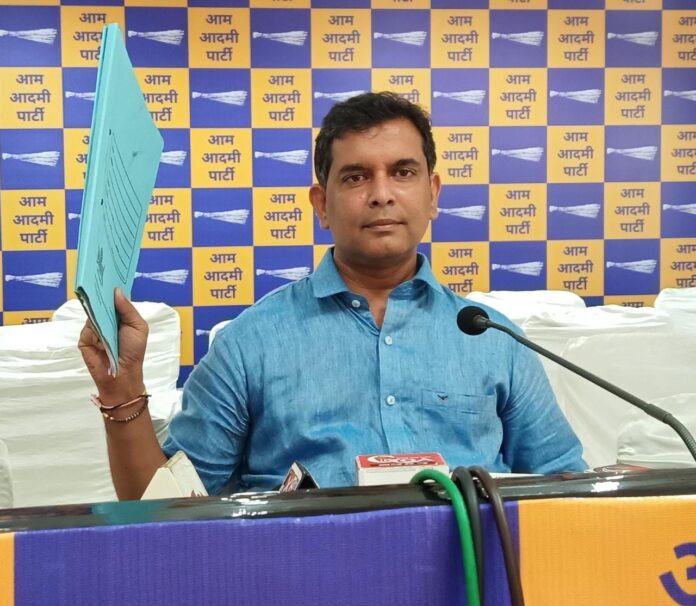 Panaji: Aam Aadmi Party leader Advocate Amit Palekar exposed major job scam in the health sector by claiming that 95 percent of jobs were given to people from CM Pramod Sawant's Sakhali constituency and Health Minister Vishwajeet Rane's Sattari constituency.
Palekar has also alleged that no process has been followed during recruitment and that people have been appointed before appointment letters are issued.
While addressing the press conference at International Centre of Goa, Palekar said, "I have a list of candidates, who had applied for the LDC post in GMC and out of 105 candidates, 96 candidates are from Sakhali and Sattari constituency. Without any procedure being followed, GMC has already appointed the candidates. This shows massive corruption in the selection process. GMC should be renamed to Sattari Medical college".
"The IPHB pharmacist list has been released but without name and address of the candidates. AAP will file a complaint with the state's vigilance department against the job scam. This scam clearly shows that talent and marks are not important in Goa any longer", he added.
Palekar claimed that favoritism in giving jobs is injustice to the Goan youth and the BJP government is involved in rampant corruption in giving jobs. Health Minister Vishwajeet Rane is at the tip of this scam.
Earlier, Sawant dangled 10 thousand jobs carrot ahead of the elections. Palekar urged youth to not fall prey to this carrot. "If such type of practice challenged in the court, everything will be called off. It's high time youth should think twice before taking any decision", Palekar said.
He further said, "The BJP government is busy doing scam after scam. From 10 thousand jobs to 'Sarkar tumchya dari' event everything is scam. The outsourced agencies for job interviews are a big scam. All government job interviews under the BJP government are a big scam. On the other hand AAP leaders are busy meeting big big industrialists so that job creation could be done. Unlike the BJP,  AAP never does fake promises".