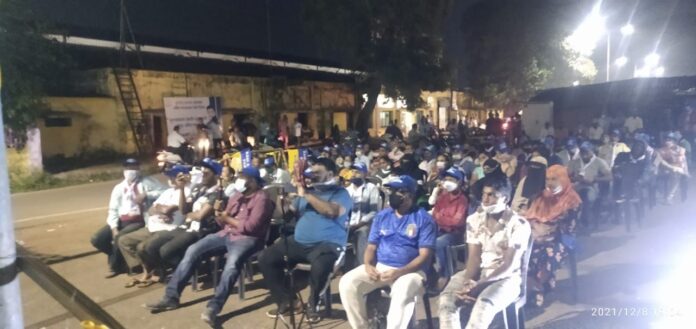 The leaders of the Aam Aadmi Party Gabriel Fernandes, Abhijeet Dessai, Anil Gaonkar and Anup Kudtarkar held a Parivartan Yatra across Curchorem, Sanguem, Sanvordem, and Canacona and received a tremendous response from the community.
AAP Curchorem assembly incharge Gabriel Fernandes appealed to the people of Curchorem to support AAP just once to derive the benefits of honest politics. He was critical of local MLA Nilesh Cabral for not solving the electricity problem in his own constituency even though he is in charge of the power ministry.
Fernandes said, "Located in the mining routes area, Curchorem Constituency has been greatly affected by the closure of mining. A large number of garages and other allied businesses used to thrive in the area, but now residents don't have much support. Youths are upset as there are no alternative jobs. Lockdowns have caused enough suffering to the citizens, and only a government of the people can understand their day-to-day woes.".
While addressing the media in Sanguem Abhijeet Dessai said, "The Sanguem area has been greatly affected by the mining ban. To make matters worse, the Sanjivani sugar factory has been closed, leaving the farmers with no source of income. Over the last five years, the government has ignored the mining dependents. People are angry at the corruption that has taken over every government sector. People deserve a change, and only AAP can provide it.".
In Sanvordem, while addressing the gathering AAP leader Anil Gaonkar argued that the need of the hour was to restart mining, which will provide employment to the people.
He said, "In contrast to the incumbent government that does not seem to care about the unemployed, the AAP will provide relief to the unemployed if it gets into power. Families impacted by the mining closure will receive Rs. 5000 for the time being until mining can resume.
Sanvordem residents are fed up with the present corruption practices. AAP will work for the welfare of Goans".
AAP Canacona Assembly incharge Anup Kudtarkar said, "A lot of problems have arisen in Canacona in the past few years. People are not getting jobs. The sitting MLA switched from the Congress to the BJP promising development, but he has only developed his pocket. Canacona's economy is largely dependent on tourism, which has been negatively impacted by the pandemic and lockdown. Those who are dependent on the industry are facing a financial crisis and are unable to meet their basic needs. Youth in Goa are tired of being cheated of jobs, and are glad that AAP will bring transparency to the recruitment process".