Aam Aadmi Party today distributed free ration kits to more than 200 rickshaw drivers operating in Panaji, Taleigao and vicinity. AAP leaders Valmiki Naik & Cecille Rodrigues, along with Uma Volvoikar, Arvind Tendulkar, Sarfaraz Ankalgi, Dattaram Mainker, Shara Bhanu and others, coordinated the drive.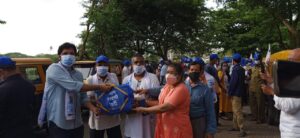 Naik said he visited various rickshaw stands to understand their issues, and realised that rickshaw drivers are facing a calamitous situation due to covid and the lockdown.
"There is a steep increase in monthly expenses due to fuel hike, price rise etc. In addition, there are fixed costs such as EMIs, insurance, road tax etc. With markets, tourism, and shops completely closed down, there has been a drastic dip in customers. Many drivers are choosing to stay at home, as it has become unaffordable to even just come and wait at the rickshaw stands, as they would have to spend on fuel and a few cups of tea, but would not have even a single customer all day", Naik said, adding that the drive today was a small first step to provide immediate relief.
Naik said the BJP Govt had only made matter worse by misleading the rickshaw owners during the entire past year of the pandemic.
"The Sawant Govt made them fill out application forms for compensation last year, but not a single rupee was disbursed to them. This year again, the CM made a grand announcement of compensation to rickshaw drivers on the occasion of Revolution Day, but again no one has actually received anything", Naik said.
All the rickshaw drivers expressed their appreciation that AAP had understood their troubles, and taken a timely step to provide immediate relief.