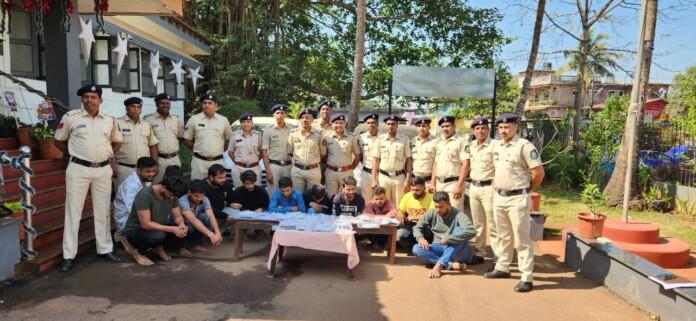 Panaji: That on 28.12.2022 one complainant by name Jitesh Mehta r/o Pune Maharashtra appeared at this Police Station and reported that his mobile phone make Samsung Fold Z3 has been snatched by unknown person from his pocket.
Acting upon the said information staff of Calangute Police Station proceeded in search of accused person and upon verifying CCTV footage, accused person was traced at Calangute.
After thorough interrogation it came to light that two gangs consisting of 12 accused person from Maharashtra who are resident of different parts of India, come down to Goa specially to commit theft of mobile phones. They were later apprehended from two different hotels at Baa Calangute and recovered 41 branded mobile phone of different make all worth Rs. 30 lakhs.
Two Toyota Innova cars involved in the said case are also recovered.
Initial enquiry conducted revealed that this gang are operating all over India and takes advantage of huge gathering of people and commit the crime of theft of mobile phones. Likewise this gang has landed in Goa in view of ongoing Sunburn EDM and New Year celebration in costal belt of North Goa District.
The mobile phone of above complainant was also recovered from the instance of accused persons who were arrested under section 41 of Cr.P.C.
The offence u/s 356, 379 IPC is being registered upon the complaint of Shri Jitesh Mehta r/o Pune Maharashtra.
Police Team consisting of PI Shri Dattaguru K Sawant, PSI Rajaram Bagkar, LPSI Pragati Malik, HC-4936 Vidhyanand Amonkar, HC-4923 Vishal Gawas, PC-6644 Vijay Naik, PC-6118 Amir Garad, PC-7119 Ganpat Tiloji, PC-7462 Mahendra Chari, PC-6390 Sanjyot Kerkar, PC-7104 Rupesh Salgaonkar, PC-7291 Smital Bandekar, PC-7346 Akshay Kamurlekar, PC-8334 Pritesh Kinlekar, PC-7117 Bhagwan Palyekar, PC-7106 Akash Naik, PC-7256 Laxman Patekar, Driver HC-Manoj Shinde, Driver Sarvesh Tuyekar did excellent job in apprehending the above accused persons and recovering stolen property worth Rs. 30 lakhs approximately.
Further investigation is in progress under the supervision of PI Shri Dattaguru K Sawant and SDPO Porvorim under the overall supervision of SP North Shri Nidhin Valsan, IPS.