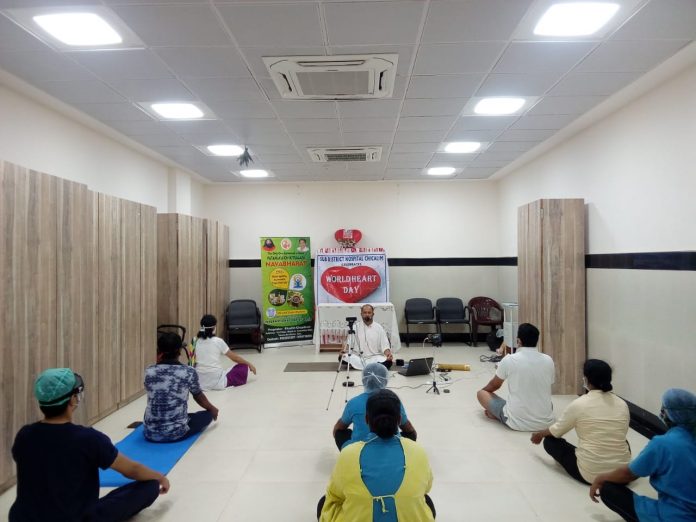 Vasco: Patanjali Chikitsalaya Navabharat Vasco and Patanjali yog Samiti (West Goa Unit) in Association with SDH, Cottage Hospital Chicalim, Goa organised a Yoga session for the COVID-19 warriors which included the Doctors, Nurse's and other staff members. Dr. Borkar, Health Officer, SDH, Chicalim, Dr. Roopesh, In-charge of the Program, Dr. Akash Kumar, Dr. Akash Lotlikar, the Nurses and other staff members of Cottage Hospital Chicalim were present for this yoga session. The arrangement of the sessions were looked after by Extension Educator, Ms. Karishma Kerkar. Dr. Borkar, H.O., SDH, Chicalim welcomed the members for the session
Dr. Namdev Chopdecar shared information about the Heritage of India, he spoke about Yoga and how one can use it to overcome anxiety, tiredness, fatigue, depression and negatives in this Pandemic situation, And keep yourself physically fit ,active, happy, joyful and also maintain immunity to fight against all odds.
Dr.Chopdecar demonstrated and made the members present experience the benefits of Yoga Asanas, Pranayam and Meditation. The members present
performed various Yog- Pranayam and enjoyed the session. The programme was concluded by Dr. Roopesh In-charge of the program who proposed a vote of thanks.