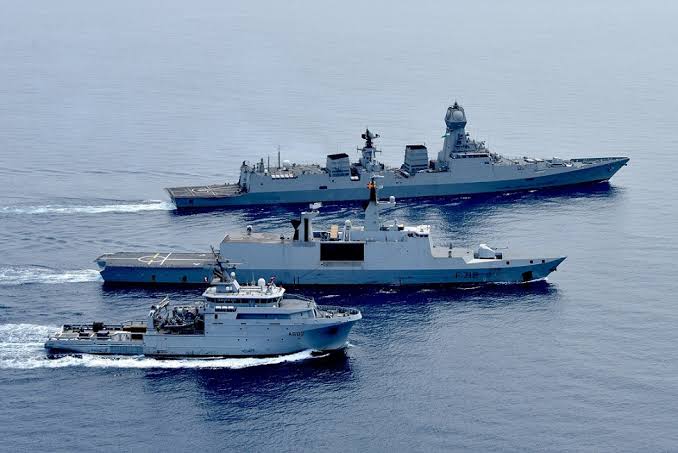 Deployed in the Indian Ocean as part of the ANTARES mission, the French Carrier Strike Group, comprising the nuclear-powered aircraft carrier Charles de Gaulle, its group of embarked aircraft and escort ships, conducted a large-scale operational cooperation with the Indian Navy, called VARUNA, from 16 to 20 January 2023.
Held off the Goa coast, this joint preparation for air-sea warfare exemplifies the outstanding Indo-French naval cooperation in the Indo-Pacific. It also opens a year 2023 marked by the 25th anniversary of Indo-French strategic partnership.
The French Navy ships participating in the drill include the aircraft carrier Charles de Gaulle and its embarked air group, several Indian and French frigates and their embarked helicopters as well as a French command and replenishment ship will carry out numerous training sessions of increasing intensity.
The aim of the VARUNA joint exercise is to prepare the crews of these two Indian Ocean nations to face a variety of challenges together, mobilising their anti-surface, anti-submarine and anti-aircraft assets, as well as shared control of the air-sea environment and ship control. Replenishment at sea, increasingly complex air combat manoeuvres, and firing drills will complete these realistic operational scenarios.
This joint deployment in the Indian Ocean contributes to ensuring stability in this region in line with France and India's shared approach of collective security based on respect for international law at sea and in the air. A major annual aero-naval event whose first edition dates back to 1983, VARUNA bears witness to the ability of the French and the Indian Navies to deploy and operate together and exemplifies the high level of trust between France and India. The 2023 edition holds special significance as France and India embark on a year of celebrations of the 25th anniversary of our strategic partnership and work towards an ambitious agenda for renewing, expanding and deepening this partnership.