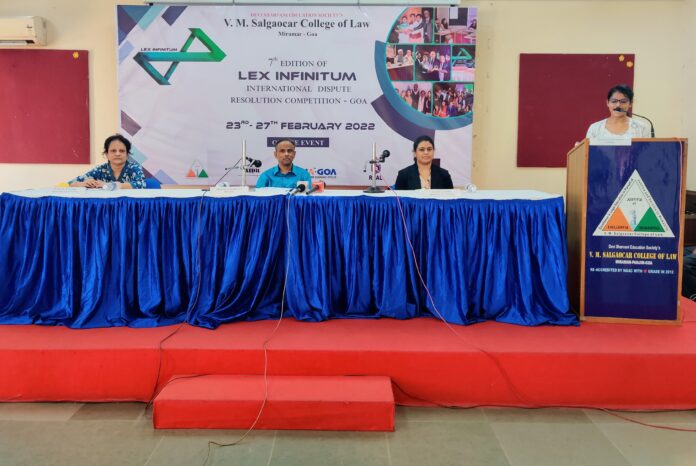 The Organizing Committee of V.M. Salgaocar College of Law, Miramar Goa, is all set to conduct the 7th edition of Lex Infinitum 2022 which is an International Dispute Resolution Competition held in collaboration with AIDR (Association for International Dispute Resolution) from 23rd to 27th February 2022 in an online mode. Lex provides opportunities to law students from all over the world to showcase their Mediation and Negotiation skills.
This edition of the event will witness participation from 28 negotiating teams and 14 mediators from 32 top Law colleges out of which 8 are international teams and 10 National Law schools with a prize money of Rs. 1,05,000. That aside, trophies and awards will be up for grabs.
Participants will be provided feedback from top Mediation and Negotiation professionals and also promises opportunities in the form of Mediation and Negotiation training through an interactive certification course by way of Knowledge Sessions which will be held from 19th to 21st February 2022 in the evening on the ZOOM platform.
Further, Lex will also witness Mediation Musings – 'Will the Bill Kill?' legislation on ADR, on 21st February 2022 from 6.30pm – 7.50pm (IST) on the ZOOM platform. The Zoom meeting ID for the same is 992 2009 9611.
This year will witness participation from international teams hailing from across the world such as Singapore, England, USA, Sri Lanka, Russia, Belgium, Vietnam and many more, besides multiple teams from across India as well.
Lex Infinitum aims at promoting the use of Alternative Dispute Resolution (ADR) in India as well as abroad which can be accomplished by enhancing the popularity of ADR techniques among law students and aspiring lawyers. Additionally, students will have opportunities to interact with foremost experts in the Mediation field and will experience the thrill of competing against the brightest student minds of the generation.
The day before the competition will be reserved for an interactive workshop-cum-seminar held for the participating teams (inclusive of coaches), and conducted by expert ADR practitioners from all over the country and abroad.
Owing to the current COVID-19 pandemic situation, Lex Infinitum 2022 will be an online event which will be conducted via Zoom and promises to be even bigger and better!