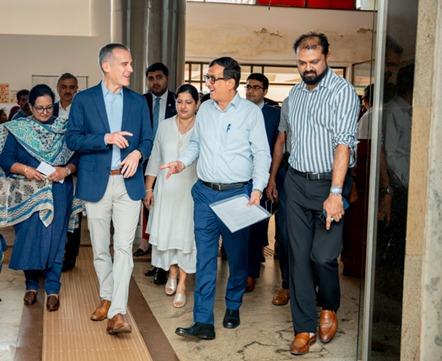 Mapusa: In a landmark event underscoring the ever-closer ties between India and the United States in healthcare innovation, Mr. Eric Garcetti, the 26th United States Ambassador to India, made a significant visit to the cutting-edge Next Generation Sequencing (NGS) Laboratory at North Goa District Hospital on October 27th. This visit, a vital highlight in the morning's itinerary from 09:00 to 10:00 AM, cast a spotlight on Goa's strides in genomic surveillance and pathogen detection, crucial in battling pandemics and endemic diseases.
The NGS Laboratory in Goa, a marvel of medical technology, stands as the only district hospital lab in India with a trifecta of distinctions: an ICMR VRDL lab, an INSACOG member lab, and possessing Next-Generation Sequencing capabilities. This remarkable achievement, born from the partnership between DHS and USAID RISE, exemplifies Goa's commitment to integrating the pinnacle of medical technologies into its healthcare framework.
Ambassador Garcetti's visit, along with senior officials from USAID India and Goa's health department, provided a platform for demonstrating the laboratory's capabilities and its crucial role in enhancing Goa's public health infrastructure. During his visit, Mr. Garcetti, accompanied by high-ranking officials from USAID India and key members of the Goan health department, embarked on a comprehensive tour of the laboratory. This tour included engaging interactions with the lab staff, providing the delegation with a firsthand look at the lab's operations and its role in bolstering Goa's public health infrastructure.
A highlight of the visit was the focused roundtable meeting. This session facilitated an in-depth discussion about the integration of the NGS lab into Goa's broader health strategies. The discussions revolved around how the NGS lab integrates with Goa's broader health strategies, particularly its impact in addressing diseases like women's cancers, dengue, and Kyasanur Forest Disease (KFD). This discussion highlighted the potential for the lab's application beyond its current scope.
The presence of distinguished guests from USAID India like Dr. Alexandria Huerta – Deputy Mission Director, Mr. Vijay Paulraj, Sr. Health System strengthening Advisor – Health office, along with experts from USAID RISE India – Jhpiego like Dr. Vineet Kumar Srivastava, Program Director & Chief of Party, Dr Prashant Singh, Sr Advisor – lab strengthening, and Dr Abhishek Thakkar – Sr Technical Officer added gravitas to the event.
The Goan health department was well represented by senior officials such as Shri Arun Kumar Mishra – Secretary (Health), Dr. Rajnanda Dessai – Advisor to the Health Minister, and Dr. Geeta Kakodkar – Director of Health Services. Their participation underscored the importance of the visit in fostering ongoing collaboration between Goa and international health agencies.
Reflecting on Goa's strategic and agile response to the COVID-19 pandemic, Shri Arun Kumar Mishra, Secretary (Health), Shri Arun Kumar Mishra, Secretary (Health), reflected on Goa's strategic response to COVID-19, a challenge compounded by its status as a global tourist destination. "Our rapid response, integrating state-of-the-art facilities and technologies like molecular testing labs and telemedicine, was pivotal in serving both local and international health needs during the crisis," he stated. Emphasizing Goa's agility and commitment to public health, he added, "The operationalization of the NGS lab is a prime example of our 'Global to Local' approach, where global technologies are adapted to meet our specific needs, and conversely, we have to think how our local solutions can inform global health strategies as well."
Dr. Geeta Kakodkar, Director of Health Services, discussed Goa's unique health challenges, such as the epidemiological shift towards lifestyle diseases and the complexities posed by infectious diseases due to high tourist influx. She highlighted, "Our efforts in leveraging partnerships have led to the development of robust, localized public health models. The establishment of the NGS lab at North Goa District Hospital, with support from USAID RISE, is a testament to our commitment to bringing scientific innovations to populations in need."
Both officials underscored the importance of sustaining technological advancements made during the pandemic and repurposing investments to address current and future health challenges. The emphasis was on building a health system resilient enough to respond to threats like antimicrobial resistance, climate change impacts, and local endemic conditions.
In a statement resonating with the spirit of collaborative advancement, Ambassador Garcetti emphasized the United States' ongoing commitment to aligning with local governments in developing models that are both locally relevant and globally attuned. The focus areas highlighted by the Ambassador include critical domains such as women's cancer, antimicrobial resistance (AMR), and the impacts of climate change. This approach underscores the importance of bespoke solutions that address specific challenges, yet are informed by universal best practices. Further cementing this ethos, Ambassador Garcetti expressed a keen desire for a synergistic partnership with the government of Goa, advocating for a dynamic exchange of insights and strategies. This vision champions the notion of mutual learning and adaptability, key to evolving innovative models akin to the exemplary setup witnessed at the NGS lab. His remarks, carefully poised and politically considerate, reflect a deep understanding of the nuanced interplay between local needs and global health objectives.
In conclusion, Ambassador Garcetti's visit is not just a recognition of Goa's strides in healthcare technology but also a significant step towards strengthening international partnerships. This visit opens new avenues for collaboration in health technologies and strategies, positioning Goa as a burgeoning hub for healthcare innovation and public health preparedness.