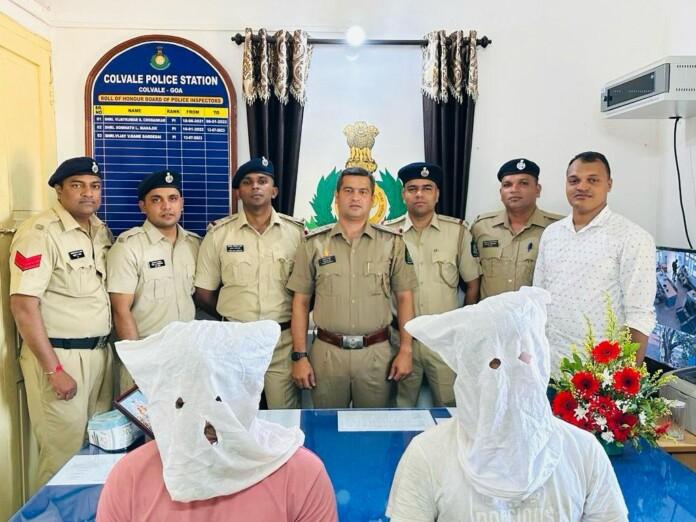 Colvale police have arrested 02 persons in a narcotics raid.
As per SDPO Mapusa Jivba Dalvi on 20/10/2023 a narcotic raid was conducted during late night at Ganesh Nagar, Colvale.
Based on intelligence and reliable information two accused persons 1. Amit Kumar Sonkar s/o Manickchand, age 21 yrs r/o Ganesh Nagar, Colvale, Bardez Goa and 2. Dinesh s/o Ballan Soni, age 27 yrs r/o Khadpawada, Cuchelim Bardez were apprehended and during the raid from their possession 1.500 Kgs of Ganja W/Rs. 1,50,000/- and also seized Dio scooter No. GA-03- AN-1101 and two mobile phones make Redmi and Vivo were seized by the police.
In this connection Colvale Police Station have registered an FIR under section 20(b)(ii)(B) r/w 29 of NDPS registered. Both accused persons were arrested and presently in Police custody.
The above raid was conducted under the leadership of PI Colvale Shri Vijay Rane and PSI Rohan Madgaonkar, PSI Kunal Naik, HC Rupesh Korgaonkar, HC Pandurang Naik, PC Sandip Malik, PC Rohan Siolkar and PC Jagdish Thakur all of Colvale Police Station.
The case is under investigation with PSI Rohan Madgaonkar of Colvale Police Station under the overall supervision of SDPO Mapusa Shri Jivba Dalvi and SP North Nidhin Valsan IPS.