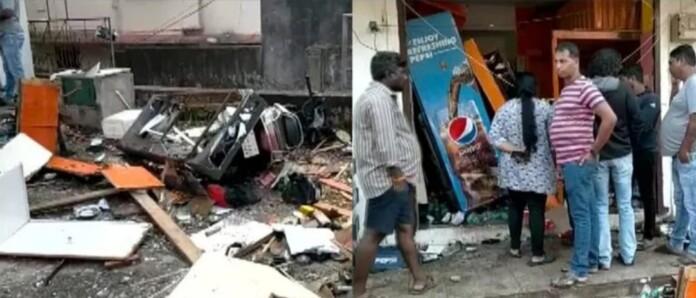 Panaji: Goa Police have arrested two persons including a lady in connection with a cylinder blast case reported in a resto-bar at Mapusa town on January 22, 2023.
Deputy Superintendent of Police (Mapusa) Jivba Dalvi said that two persons – Ramakrishna Mayekar and another lady – who were managing the restaurant were arrested by Mapusa police on Tuesday.
He said that the blast had happened on January 22, 2023  at around 05 am in morning in a restro-bar located in the heart of Mapusa city.
Dalvi said that upon the incident police and Fire Services staff swung into action and visited the spot.
"After conducting detailed inquiry Fire Services have informed that the incident happened due to use of damage hose pipe of LPG cylinder which must have further came in contact with some ignition or spark," he said.
Dalvi said that Police have filed FIR against both the acused under section
Based on the report of Fire department , police immediately registered FIR under sections 336 (negligence to endanger human life), 285 (negligence with respect to fire), 427 (mischief causing damage).
He said that police department has already wrote to excise department to cancel the excise licence and to Municipality to revoke trade licence of the premises.