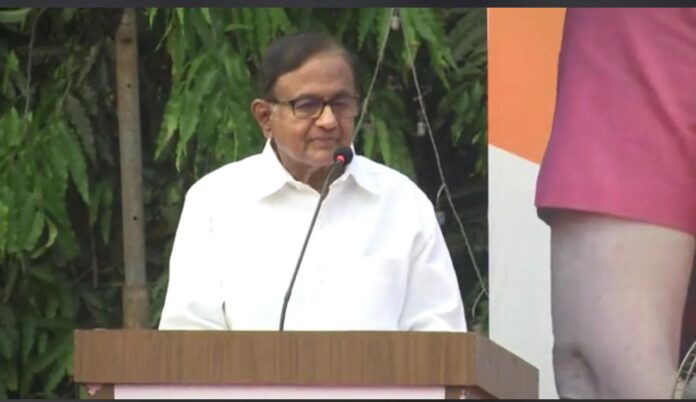 Panaji: Senior Congress leader P Chidambaram on Monday said that those who wanted to see a change in Goa during recently held election voted for different parties due to which the state is witnessing the 'same government' again.
Chidambaram was addressing a function held to induct new Goa Pradesh Congress Committee President Amit Patkar and new Congress Legislature Party chief Michael Lobo on Monday in Panaji.
The Congress leader said  67 per cent of the voting population voted against the BJP, they voted for change.
"But for those who voted for continuity (BJP) voted with single minded purpose and those who voted for change voted for different parties which is why although 67 per cent wanted a change, today you wake up on March 15 and you find that there has been no change at all," he commented.
Chidambaram said that post-results it is like "same character", same faces and in many cases, enjoying the same portfolios." "I do not wish to take any names, or wish to point to anything of the past. But ask yourself one question, is this the government which is going to bring about change in Goa, massive development in Goa or jobs in Goa," he questioned.
Chidambaram, who headed Congress in Goa elections, said "post results, we are left with the feeling that there is same government, same characters. What will happen, I am afraid, is the same repeat of last ten years."
The Congress leader said people of Goa voted (in favour of BJP) and the party accepts the verdict. "There is of course, a trace of disappointment in the ultimate results. We lost six seats to the BJP by very small margins," he said.
Chidambaram said "if you add the margin of these six seats, it comes to about 3,000 votes or so." "So effectively, 3,000 voters decided who would be in the next government. That is the law of the country and we accept it. We have no complaint against the law," he added.
 Referring to the recent appointments in GPCC, Chidambaram said that point is being noticed by every observer and every media outlet, we are handing over responsibility to new generation of congress.
"A younger generation is taking over today and that I believe is a right thing to do.  Nearly 60 per cent of India is under the age of 40 years. India will remain a young country for next decade and so and may be beyond and we have to prepare ourselves to entrust responsibilities to young generation," he said.
Chidambaram said that the young team will lead the party outside and inside the legislature until we achieve our goals step by step, first in the panchayat elections which are due in next few months and parliament election in 2024 and ultimate goal of Assembly election in 2027.
"We must not flinch against this challenge. We must be brave, courageous, firm and my final appeal is we need more young people. I want people in their 30s and 20s to come forward and take responsibility in the party. They must have fire in the belly , they must have passion for change," he said.
Chidambaram said "there are thousands of young men and women in Goa who should be members of congress. I want to see a day when Block committee president is 30 year or so, Sarpanch and panchas should be in their 20s and 30s."