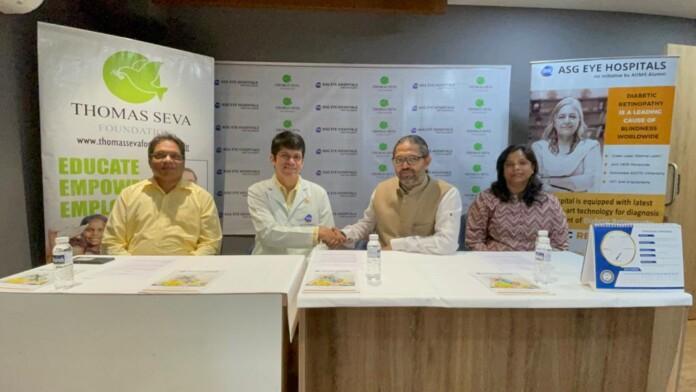 Thomas Seva Foundation and ASG Eye Hospital, Goa, have entered into the first of its kind strategic tie-up wherein the NGO and the hospital have adopted an entire constituency, the Velim constituency in the state of Goa, providing free eye-health check-ups. Over the next 5 years, Thomas Seva Foundation and ASG Eye Hospital will work together to roll out free eye camps across the 62 panchayat wards in the Velim constituency.
Dr Sean Da Silva, ASG Eye Hospital said that each year, the hospital will be conducting 15 eye camps across the 62 wards wherein Thomas Seva Foundation will jointly sponsor surgeries for the underprivileged. ASG Hospital will also provide and distribute 33,000 eye health cards across the Velim constituency wherein the constituents can avail a free comprehensive eye check up at the hospital.
"ASG Hospital and Thomas Seva Foundation will also work with PHC and doctor Samuel to carry out monthly OPDs in Velim constituency for ease of accessibility to the residents and for follow up evaluation", added Dr Da Silva.
Savio Rodrigues, Co-Chairman and Trustee, Thomas Seva Foundation, said that the NGO works towards solving community concerns, and in healthcare, 'eye care' is an important focus area but sometimes, many people tend to overlook it. Our adoption of the Velim constituency is to bring free eye care services to the people in Velim and educate them on the importance of eye care.
"We are grateful to ASG Eye Care Hospital and Dr Sean for joining us to adopt the Velim constituency. We are here to serve the people of Velim, Goa and India", expressed Rodrigues.