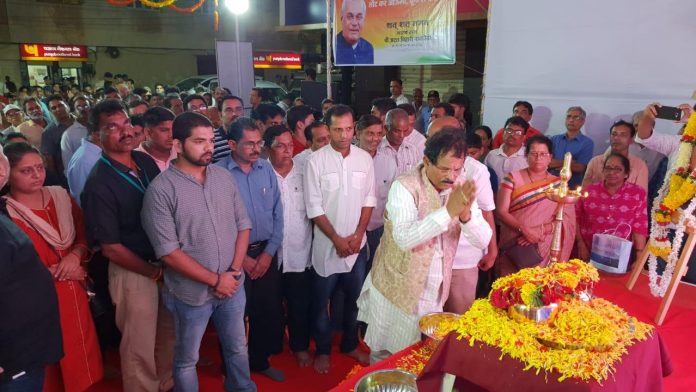 Panaji: The Ashes of former Prime Minister Late Atal Bihari Vajpayee were finally kept at BJP headquarters in Panaji, while another Kalash was sent to Canacona this evening.
Chief Minister Manohar Parrikar will immerse the Kalash which is currently located in Panaji in River Mandovi on August 24, while the one which is sent to Canacona  would be immersed in Zuari river on the same day by South Goa Member of Parliament Narendra Sawaikar.
Two kalash of the Ashes were flown in from Delhi to Goa this evening. BJP President Amit Shah in presence of Prime Minister Narendra Modi handed over the kalash to Goa chief Vinay Tendulkar.
Tendulkar accompanied by Union AYUSH minister Shripad Naik and Sawaikar flew from Delhi this evening.
Incidentally, Chief Minister Manohar Parrikar was also arriving in  Goa via Mumbai from the USA. All the BJP leaders came out together from the airport with the Ashes, where hundreds of party workers were waiting for them.
A tempo decorated with flowers and photograph of later Prime Minister brought the Ashes in a procession in Panaji. On the way, it was stopped at few places where people paid their respect.
In Panaji, a special pandal has been installed to keep one of the kalash. The second one was taken to Canacona which will be kept at Chavadi. The party will have kalash yatra tomorrow to ensure that majority of the people in the State will get an opportunity to pay tribute to the late leader.