Celebrate Holi, the upcoming festival of colours organically and avoid use of chemical substance that causes skin irritation and allergies. This is the message that Suryakant Shankar Gaonkar, from rural Bhuipal in Sattari, has been spreading since past eight years by supplying natural colours.
Gaonkar has been preparing the natural colours using flowers, leaves and other natural material available in his village.
He says that every year there is more demand for organic colour. This year, he has not made much varriations in colour while making. He has made limited colours for this year. Due to the Covid 19. Suryakant also that he is assisted in his work by his family members.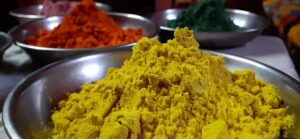 Every year, from December he starts making the natural colours. People from all parts of Goa visit his home home to buy Holi Colours.
Suryakant says that Holi marks the begining of spring and end of winter. The festival of colours is celebrated with much joy by smearing of colour on faces and clothes with increasing consciousness about health and environment, he urges people to use natural colours for Holi.
Beside this Suryakant Gaonkar have backed the Biodiversity Conservation Award 2020. He is the first person from Sattari, who have received this award. Till now he have given the many lectures in schools on the Holi Awareness. Also he have written the information on 360 plus local trees, till date, which have published on local daily news paper. And also he is guiding the botanical students in their studies.