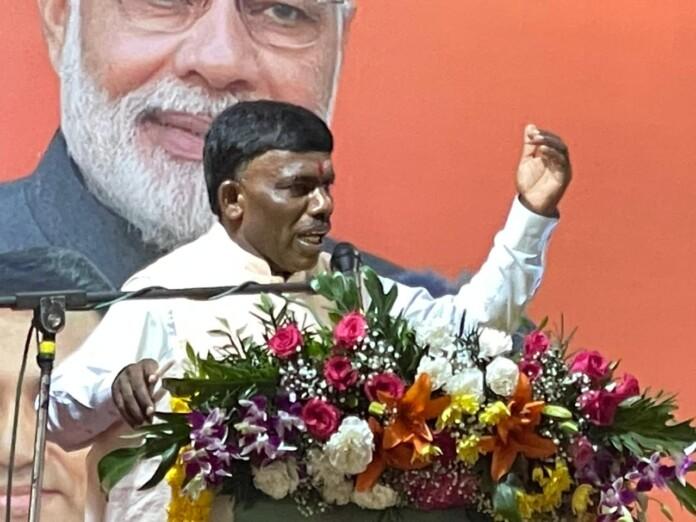 Canacona:After successfully handing over the keys of their homes to 20 needy families, Speaker and Canacona MLA Ramesh Tawadkar has decided to take the idea to another level.
During a function held at Canacona to hand over keys to 20 families in presence of Lok Sabha Speaker Om Birla and CM Dr Pramod Sawant, Tawadkar announced that 100 more such houses would be constructed by Balaram Charitable Trust in a year in Canacona.
Tawadkar said that in next five years, there will not be a single person in his constituency without a shelter over his head. He said that he could announce this depending on the support of his thousands of workers and donors, who have willing to contribute for a cause.
Striking an emotional note, Tawadkar said that if he could not help the people despite being in power and the party ruling in state and centre, then there is no use of getting elected. "Today I am in a position to help the people, which I am doing," he said, setting an example to all the elected representatives.
On Thursday, nearly 20 needy families were handed over keys of their newly constructed houses in Canacona taluka of South Goa by Lok Sabha Speaker Om Birla.
These houses for the needy people were built by local organization Balaram Charitable Trust, mentored by Speaker of Goa Legislative Assembly Ramesh Tawadkar. These families who were staying in huts were provided with permanent houses by the trust.
State chief minister Pramod Sawant, Union Minister of State for Tourism Shripad Naik were also present for the function held at Canacona.
Birla handed over the keys to the families, who are living below poverty line in the taluka.
Hailing the efforts of Tawadkar-led trust, Birla said that India's strength is its capability to fight back the situations collectively. He said that the communities come together to help the people in need during crisis.
Some of these houses which were built, were destroyed during the 2008 flood that hit Canacona taluka.
Birla pointed out that India showed its strength of being collective during COVID-19 pandemic. "Even developed countries were struggling to fight back COVID-19, when India set an example for rest of the world," he said.
The cooperative approach of fighting back the calamity by organizations and indiviausls helped us to salvage from the crisis. "India did not only saved itself from the pandemic but also helped other countries to do so," he said.
Birla said that India's projection has changed after the pandemic times due to its ability to tackle the crisis collectively. He said that India believes in Vasudhaiva Kutumbakam due to which it is ready to help the other countries in need.