Valpoi: The villagers of Shel, Melauli continued their protest against proposed IIT project in their area on Friday, demanding that State government should immediately stop the process of demarcating the land for the project.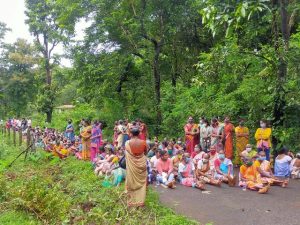 Several women sat on the road leading to the village as a mark of a protest under the banner of "Melauli Panchkroshi Gram Bachao Andolan."
The villagers alleged that the state government officials were threatening them, while adding that they are ready to get arrested, if it is required, to stop the project from coming up against the wish of the people.
They pointed out that their frequent communication to the government expressing the opposition for the project fetched no results.
The protestors requested CM Dr Pramod Sawant and Health Minister Vishwajit Rane to "personally visit the village and understand the ground situation."
They said that  the Melauli village land which is proposed for the IIT project that land is not suitable for the IIT project. "The Forest Department have given the wrong report on the proposed IIT project land. We demand to the Government to take the action on Forest officials," said Unnati Melekar.