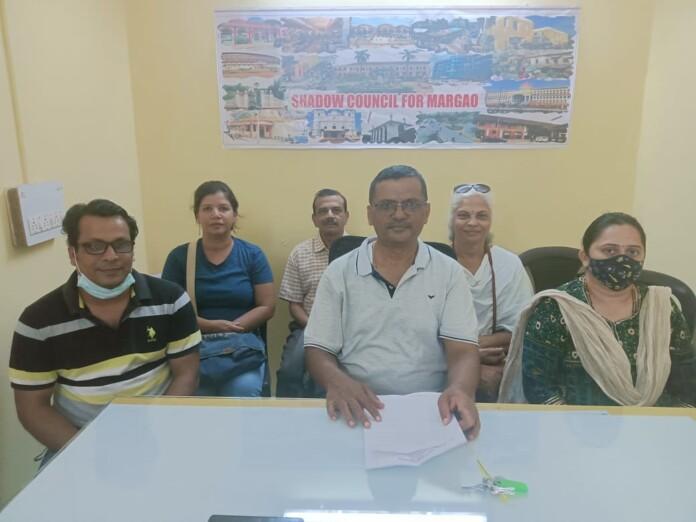 Margao: Shadow Council for Margao today demanded that the order for closure of the Ring Road stretch from KRC station to Power house junction be withdrawn immediately. Addressing the press along with Adv.  Snehal Onskar, Ex-Councillor Radha Kavlekar, Maria do Carmo, Loyola Rodrigues and Damodar Onskar, the SCM revealed that there was no Council resolution seeking the closure of the road.
Displaying the RTI information obtained from the District Collector SCM Convener Mr. Savio Coutinho further stated that on going through the order for closure it is observed that the order was specific to the beautification work along the ring road. However, ever since the order came into force on 24th November, there is absolutely no work in progress along the stretch.
"While the entire order of the Collector and the Traffic Cell is directed to beautification work supposedly in progress over there, however for the last 2 months no construction activity is going on there, hence to continue the closure upto 22nd May 2023 is totally absurd, "Mr. Coutinho charged.
It is even more amusing to notice how the Chairperson of MMC, who incidentally is also the ward councillor, states that the public is Happy with the closure, SCM remarked.
The ring road was was conceived way back in the period of 1985-90, and even though the Margao MLA Digamber Kamat has been ruling Margao for almost 30 years now, he has failed to complete the Ring Road, and what stretch is completed is not open 24×7, stated Mr. Coutinho taking a dig at the Margao MLA.
SCM made a scathing attack on the Chairperson as he tried to cover up the Margao waste collection agency "Bapu". The Chairperson who claimed that Bapu agency deserves an award for his services should check out the discussion during the Assembly session in 2019, during the starred LAQ No. 011C, Mr. Coutinho stated. It was the Margao MLA himself who highlighted the fraud by which the agency Bapu was caught billing the Council nearly 2 lakhs extra per month. And within a few months he did a u-turn by engaging this same agency in Margao wards.
The Chairperson Mr. Shirodkar at the sanitation committee meeting himself announced that he is a 50% partner of the Council agency Bapu, and this statement calls for his disqualification for taking MMC contracts, Mr. Coutinho stated.
Further,  calling upon the new district Collector to re assess the decision for closure of the ring road, charged that waste dumping, and subsequent burning of waste continues along the road, thus proving that clearing of waste on a daily basis is the ultimate solution, and not closure of roads, SCM stated.