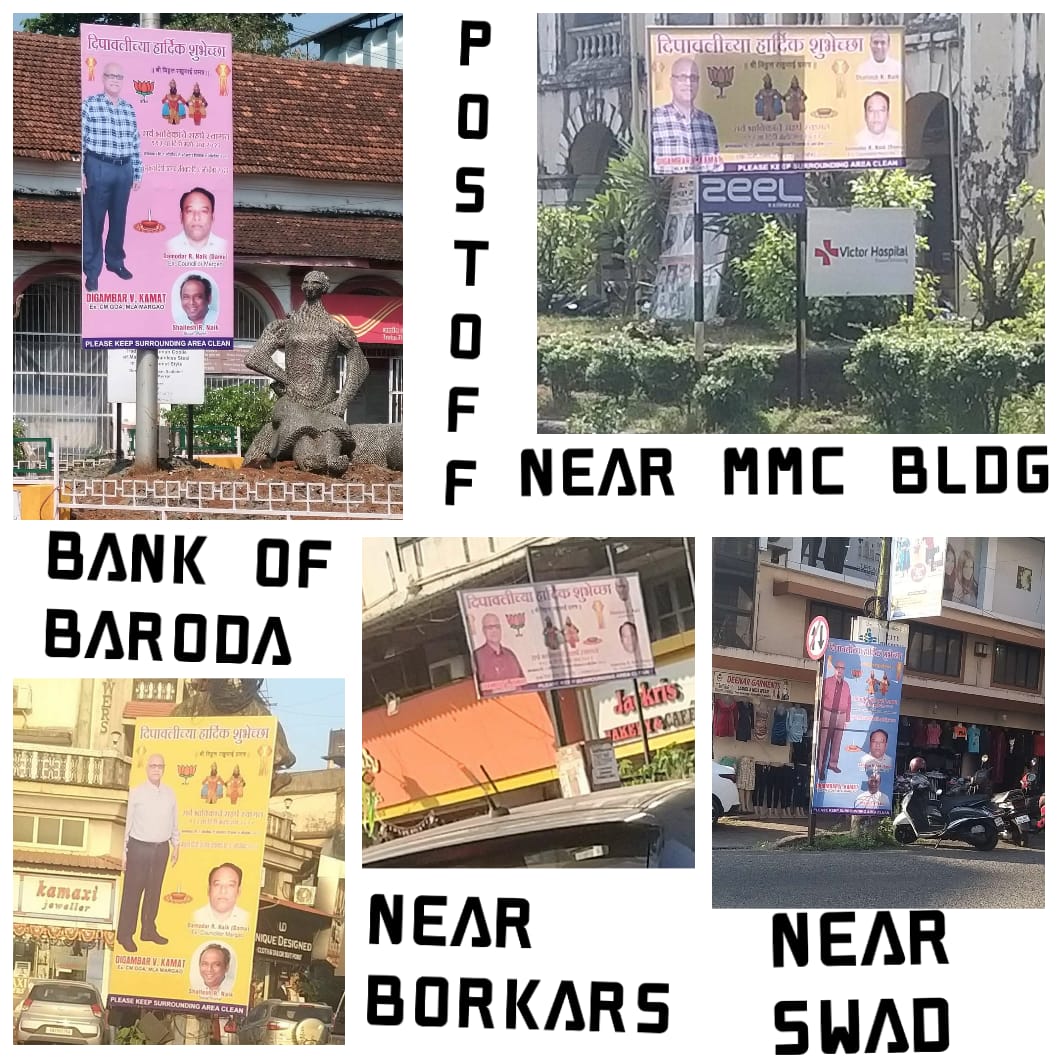 Margao:  On the sidelines of Margao MLA Digamber Kamat's appeal to citizens and businessmen to voluntarily pay their dues to the MMC, Shadow Council for Margao today demanded for the recovery of taxes/fees with penalties from individual/public representatives, for display of Banners/Hoardings without permission, during Diwali festival.
SCM Convener Savio Coutinho has released photographs of most of the the displayed Diwali greeting Banners/Hoardings erected during the Diwali festival.
The  SCM has requested the Chief Officer to verify with the concerned section, and identify the Banners/Hoardings that did not possess valid permissions,  and demanded for the recovery of the applicable charges with penalties.
The SCM could compile details of 60 Banners/Hoardings displayed within the jurisdiction of Margao Municipal Council, while the actual number of Banners/Hoardings permitted was only 30. So also it is observed that huge hoardings are erected by many, while the permissions are issued for small cloth banners, Mr. Coutinho stated.
Shadow Council for Margao further clarified that their initiative was with NO INTENTIONS TO TARGET ANY PUBLIC REPRESENTATIVE OR POLITICIAN, but was a genuine attempt to make them realize their responsibility towards public revenue, Mr. Coutinho said.
Mr. Coutinho stated that this exercise had a two point program that is:-
 i). There is a huge scope for revenue collection from temporary advertisements in the form of Banners/Hoardings. And unless our representatives set the example by paying applicable taxes, the general public will also stay away from doing so.
And
ii). These Banners/Hoardings are made of non biodegradable material, while permissions are issued for cloth banners. Further, these flex Banners/Hoardings eventually land into the Municipal bins, adding to the already existing problems of waste disposal, Mr. Coutinho rued.
Since the cost of printing such advertisements is very low, such type of advertisements has increased manifold all over, while scant concern is shown to the tonnes of non biodegradable that adds on into our daily waste, he says further. The collection of fees and taxes will surely bring about some control to this ignored source of pollution, Mr. Coutinho opined.