Sanguem: Inauguration of Sanguem Rural Champion League (SRCL) 2021 was held on Sunday  14th of March in the hands of Savirti Babu Kavalekar, vice president BJP Mahila Morcha, Goa state along with Netravali ward panch Antonita Fernandes, Kushta Gaonkar, Deputy Sarpanch Vaddem-Kurdi Panchayat, Rakhi PrabhuDessai Naik, shivsena vice president, Shashikant Gaonkar, Ex Sarpanch of Netravali, Meshu Dcosta, shekhar Phadte and paik kurttikar were present.
Savitri Kavalekar in her inaugural speech said that Youth from Rural area has tremendous talent in the field of Sports and events like SRCL is a good platform for youth to show case their talent also Reassures that  Netravali Ground will be Complete by BJP Government before govt. Completing the tearm.SRCL is organized by Amit Naik,a  video Journalist and social Activist from Netravali.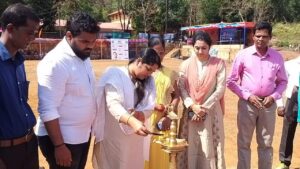 SRCL includes three village panchayat like Netravali, vaddem kurdi and kavrem Pirla  from Sanguem. Aim behind organizing SRCL is to provide Platform for youth from Rural Area to play higher level cricket. Total 10 Franchises were participated  League tournament will be continue on 4 th April along with grand finale . Prizes for the tournament is First Prize is  Rs  100000/- with trophy , 2nd prize Rs 50000/- ,Man of the series Rs 10000/- , Best Batsman/ Bowler Rs 5000/ each. Special attraction of the event was live music performance by Mamta Prabhu Gaonkar and Elen Pinto. Bunty Udelkar and Samir Shaik worked as Commentators for the tournament. Live coverage of the tournament was on you tube. We For Sanguem and Goa News Hub was media Partner for the event.