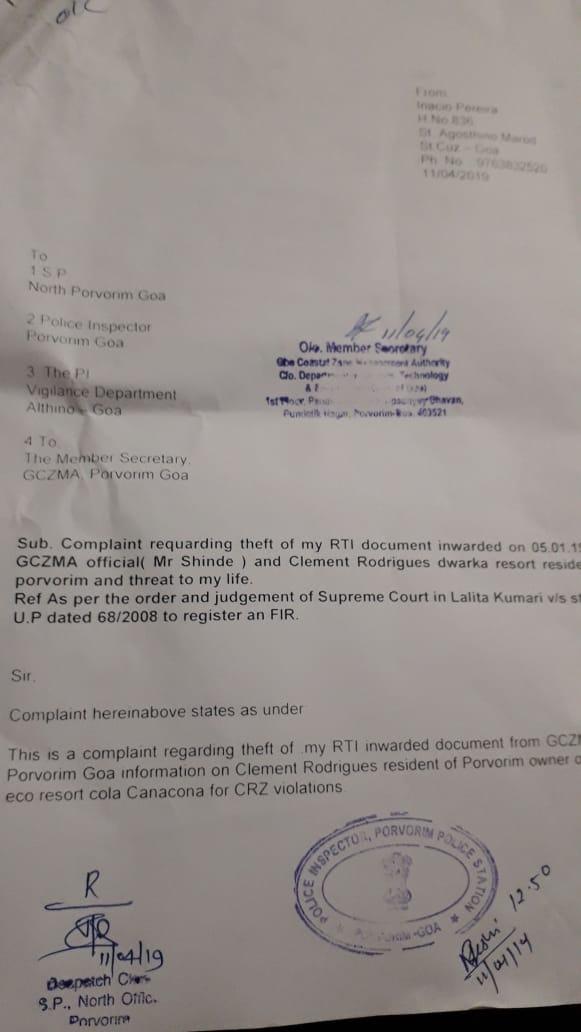 Porvorim: Social activist Domnick alias Inacio Pereira has filed a complaint with Superintendent of Police (North) claiming that the document under Right to Information inwarded by him in GCZMA has been missing.
The complaint is filed against GCZMA official one Mr Shinde holding him responsible for theft of the document. The document was an information sought under RTI against one Clement Rodrigues, owner of Dwarka Resort, has gone missing.
The resort is located at Khola village in South Goa.
Pereira has asked police to file First Information report against the GCZMA official under Supreme Court directives.
Pereira has claimed that the inwarded RTI application was robbed and snap shot was given by GCZMA official to Clement Rodrigues.
He has said that the RTI application as not to be revealed or disclosed to Clement Rodrigues on whom the information has been sought from GCZMA. Pereira has said that the information was allegedly disclosed by one Shinde working with GCZMA.