The International Day of Peace, sometimes officially known as World Peace Day is celebrated annually on September 21. The day is devoted to strengthening the ideals of peace, both within and among all nations and people.
This year the United Nations' theme for International Day of Peace is "Recovering better for an equitable and sustainable world"
UN on its official website reiterates our faith in world peace, "In 2021, as we heal from the COVID-19 pandemic, we are inspired to think creatively and collectively about how to help everyone recover better, how to build resilience, and how to transform our world into one that is more equal, more just, equitable, inclusive, sustainable, and healthier"
Goa News Hub spoke to experts from different fields asking their opinion on how we can make work a peaceful place to live in.
Kumar Kalanad Mani

Social Activist
The first human ancestors appeared between five million and seven million years ago. Since the last two lakh years they have fought in thousands of battles to establish their hegemony, causing the death of millions.
We developed scientific temper, reached the moon, yet achieving world peace remains a distant dream.
Rich or poor, all human beings want peace. Mahatma Gandhi once said, "Humans cannot build a non-violent society in an industrial civilization," and this quote holds true even today, United States has been the chief manufacturer of arms and ammunition supplying weapons of mass destruction to the world which indirectly encourage violence.
Man must choose wisely as he can have either peace or violence, he cannot have both.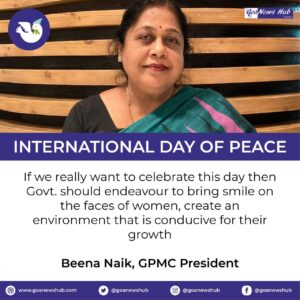 Beena S. Naik

President, Goa Pradesh Mahila Congress
If we look at the security of women or the well-being of women we don't find any efforts being made by the present government to bring women on par with men. If we want to recover for a better future, & if we want to
be resilient then try to stop the violence or atrocities against women.
Fast track Courts should come out with the verdict as early as possible & stringent action should be taken against the perpetrators. If we really want to celebrate this day as a Peace day, then the government should make efforts to bring smiles on the faces of women, create an environment which is conducive for their growth & where they can breathe freely. At present this is what is lacking. How can Peace be sustained in the nation if women are not protected & respected?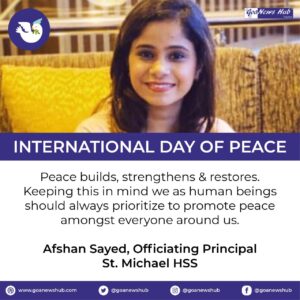 Afshan Sayed

Officiating Principal, St Michael HSS
"When the power of love overcomes the love of power, the world will know peace."
Peace builds, strengthens and restores. Keeping this in mind we as human beings should always prioritise, try and strive to promote peace amongst everyone around us. It isn't always enough to talk about it but one must believe and work at it. 
As we know, the world is healing from the pandemic that taught us supreme and harsh lessons for life. 
We hold special powers as educationists / learners, to educate and make peace with nature or every living creature around. Let us not harm the environment or animals, either.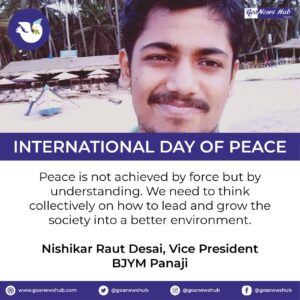 Nishikar Raut Desai

Vice President, Panaji Bhartiya Janata Yuva Morcha
Peace Day is not only an internationally shared date for humanity to commit to peace above all differences but also a result of a serious introspection on how as individuals or as a country, we have gone through a lot and now want to forget the past and live peacefully and in harmony in the future. We need to think collectively on how to lead and grow the society into a better environment.
Peace is not achieved by force but by understanding, and it should start from inner peace.