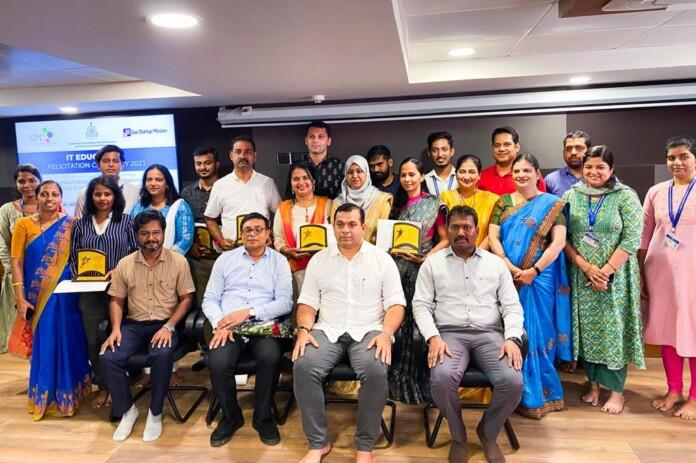 Panaji: The Department of Information Technology, Electronics & Communications, Goa; felicitated the IT Educators' in a ceremony today at the hands of Shri. Rohan A. Khaunte, the Hon'ble Minister of Information Technology, Electronics & Communications, Tourism, Printing & Stationary, Goa. The other dignitaries present at the occasion were; Mr. Suneel Anchipaka, IAS, Director of Information Technology, Electronics & Communications, Goa, Mr. Agnelo A. Fernandes, Commissioner Labour & Employment, Goa, Mr. D. S. Prashant, CEO – Startup and IT Promotion Cell, Goa.
The objective of the event was to recognise the educators'; teachers, trainers and Ed-Tech startups who are dedicated towards educating and empowering students in Information Technology.
Among those felicitated were professors from engineering institutions; Dr. Nilesh Fal Desai, Goa College of Engineeting, Dr. Gaurang Patkar, Don Bosco College of Engineering, Fatorda, Mrs. Manjusha Sanke, Shree Rayeshwar Institute of Engineering & Information Technology, Shiroda, Mrs. Snehal Bhogan, Agnel Institute of Technology and Design, Assagao, Tech-For-Goa Fellows – Mr. Sasmeet Nadkarni, Ms. Siddhi Parodkar, Computer Teachers from Govt/Aided Schools in the state; Ms. Samita Naik, St. Elizabeth's High School, Bardez, Mr. Canyton Crasto, St. Thereza's Convent High School, Raia, and other teachers. Additionally, the Startup from Goa in the Ed-Tech sector; Suvarna Surlekar – Funminds Learning Pvt. Ltd. and Damodar Patkar – Bodhami Pvt. Ltd.
Speaking on the occasion, the Hon'ble Minister, Shri. Rohan A. Khaunte, reflected on the importance of teachers and trainers in shaping the future of the IT industry. He said, "The future of our nation's IT sector lies in the hands of our dedicated educators and trainers and it through this unwavering commitment and passion, that minds would be shaped, and professionals would be groomed." He address was emotional and nostalgic, while he reminisced teachers from his yesteryears that played an important part in shaping his life. He further said "It is an honour to recognize and celebrate the invaluable contribution of teachers in the empowerment of students. Together, let us continue to foster excellence in IT education and propel the digital transformation of Goa."
The IT Educators Felicitation Ceremony was an evening filled with inspiration, and recognition, celebrating the unsung heroes in the IT education sector, shining a well-deserved spotlight on their tireless efforts and unwavering dedication; serving as a reminder that educators are the cornerstones of progress, empowering and nurturing the next generation of IT leaders.