Panaji: The long going issue of transportation of ore from mines in Quepem taluka will be resolved, Deputy Chief Minister Chandrakant (Babu) Kavlekar said on Sunday after meeting truck owners' association in Quepem. The issue was pertaining to which trucks should be allowed by the management to transport this ore and which trucks should not be allowed.
The truck owners' associations historically involved in transportation of ore from Mines in Quepem taluka have been in arguing since the recent Supreme court order that the Royalty paid mining ore can be lifted and transported till end of January 2021.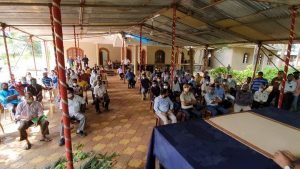 This is the fourth meeting involving truck associations from Maina, Kaure and Ambaulim and the management of the mines operating in Quepem taluka, there are signs that the dispute will be over in the next meeting. Earlier, Kavlekar had conducted three meetings of the same parties and now after the fourth meeting a consensus has been reached to end the dispute.
"The local truck owners' associations and those from neighboring areas had locked horns against each other," said Dy CM Kavlekar.
This fourth meeting was also attended by MLA from neighboring Cuncolim, Clafasio Dias and vice chairperson of Cuncolim Municipality Videsh Desai. Some truck owners are from Cuncolim too who have been denied entry pass to lift ore by local truck owners. The meeting was held at the residence of Kavlekar in Betul and was attended by some 200-300 truck owners.
Speaking further deputy chief minister said that a consensus is in sight and the issue will be resolved in the next meeting which is to happen sometime in the coming week. It may be noted that the Supreme Court of India has already extended due date to lift and transport the royalty paid ore till end of January 2021. With this relaxation by the apex Court the mining dependent truck owners are seeing a ray of hope, after the darkness they saw after the closure of mining activities in the state.
Speaking further on the occasion Kavlekar said, that the issue is emotional too and need to be dealt with lot of care. Also while coming to the conclusion of this, we need to see the road conditions too as more trucks plying may cause issues to the locals living on this route of ore transportation. However we are hopeful that a solution will be worked out by the next meeting.
Truck owners have shown faith in the efforts of Dy CM Kavlekar on this issue. "We have been in the dark for a very long time after the mining stopped. This could be just a start of brighter future," said Surendra Faldesai, one of the truck owners.