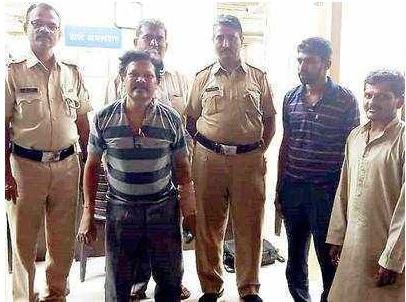 A 60-year-old Alzheimer's patient from Goa lost his memory lucidity in Pune, where he had come to recover his money from Samruddha Jeevan Co-operative Society near FC Road. In an unstable condition, he wandered off to a temple in the vicinity, where his presence was noted by the priest. Unable to figure out anything about him, he dialed up Deccan police who took him to the station so as to trace his home. After much effort, they successfully located his nativity in Goa.
The incident took place on November 5. At 5 am, Devidas Pandhari Uchgaonkar, was roaming around a temple without any clothes. When the priest noticed his debilitating demeanor, he offered him a dhoti to cover up his body. He then called the Deccan police, who took him in their care. They interrogated him but to no avail as his recollections were next to zero. His difficult speech created more hurdles.
However, the cops found a bag on him. It contained clothes but nothing else like a phone or an identity card that would enable them to contact the kin.
The cops continue their effort to extract any use they went back and forth between the interrogation and with the hope of finding a link. Finally, they stumbled across a small piece of paper in his shirt's pocket It contained a mobile number when they called, it was Devidas wife, Shraddha, who picked up the phone.
They informed her of a man who was lost in Pune, following which she confirmed that it  was her husband who suffers from Alzheimer's disease. Shraddha also said that he tends lose his lucidity often "He does not remember anything for certain periods. That is why I put a paper with my mobile number in his pocket. I was worried about him since was unable to contact she said.
Shraddha told Mirror that Devidas was afflicted with the problem since last year it has deteriorated over six months. Before he was under the grip of Alzheimer's, he was employed with Samruddha Jeevan Co-operative Society in Goa. His maturity fund was pending – a fact that he often recollected.
The company, too, had promised to return the amount This promise resonates with him often and he would that the firm was calling him to collect the amount. One day he told me that a friend had called him saying that the matured amount was being returned, for which he had to go to Pune but he lost his memory she said.
This is when the cops stepped in. Senior police inspector of Deccan police station, Deepak Lagad, told Mirror that Devidas was not in the condition to communicate. It was
only when his relatives came to the station that they understood his intent "After some time, Devidas regained his lucidity and was then able to tell us how he reached
Pune," he said.
Devidas was met with closed gates when he arrived in the city. He told the cops that he decided to the temple and enter to the office when he lost his
memory. This is where the priest, Balasaheb Seth, offered him clothes and the police. They were then able to communicate with his wife. Shraddha expressed her gratitude to the cops who took proper care of him. She herself is not in a good condition and thus had to send relatives to Pune to recover her husband.
– courtesy Pune Mirror