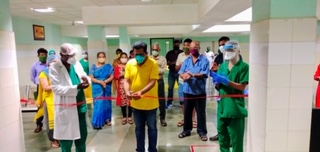 Valpoi: Community Health Centre Valpoi launched 'Post-COVID Clinic' on Wednesday at the hands of VMC chief Akhtar Shah.
These clinic will address the needs of the rising number of patients, who have recovered from COVID, but are suffering from mid and long-term persistent effects of the infection.
Large number of COVID19 recovered patients suffer from problems that include breathlessness, chest pain and heart issues, joint pains, vision problems, and memory loss months after contracting the novel coronavirus. The clinics will be manned by a team of doctors to help patients deal with the aftermath of COVID-19 and restore their health.
Incharge of Valpoi Hospital Dr. Shyam Kankonkar said that these clinics would help patients to get the care they need. The trained clinicians will ensure that the patients get the correct treatment and recover completely. We will also have a yoga instructor who will teach yoga exercises for the patients to recover fast.
COVID-19 impacts almost all the vital organs in the body. Apart from acute events like stroke and myocardial infarction, chronic conditions like diabetes and hypertension are part of the post-COVID syndrome.
He explained that while long-term problems were common among patients who have been hospitalised, even patients who had recovered from a mild case could suffer from the prolonged effects of the virus. Some of the long-term effects may be severe. The post covid clinic would enable monitoring of symptoms on an ongoing basis and deliver timely medical attention.
Inagural Chief Guest who is Valpoi Municipal Council Chairperson Mr. Akhtar Shah urged patients to take benefit of this service. He said that the staff of CHC Valpoi have done commendable job in managing covid. "I have personal experience when my known person was found positive, staff of CHC Valpoi was quick enough to take necessary action, I appreciate the hard work of our front line warriors and thank them for their services".
Dr. Abhijit wadkar, Aqueeb Shaikh, Dr. Priyanka Joshi, Dr. Swati Dessai, Dr. Sujal Gaonkar, Vishal Gawas and Sanitary Inspector Gajanand Parshekar  were present for the Inagural function.